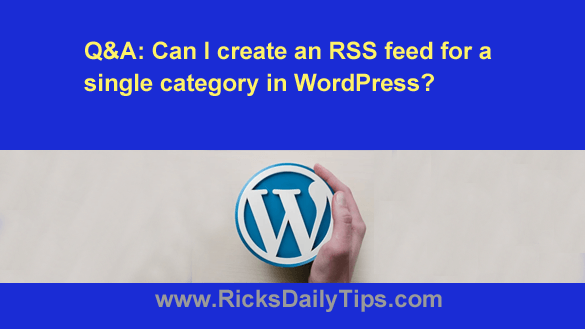 Question from Blake V.:  Hi Rick. I have a WordPress question if you don't mind.
I blog about Bluegrass music.
I have categories for new CD releases, show dates, equipment reviews…you name it.
If it pertains to Bluegrass music, I write about it.
I've had several people ask me if I could create an RSS feed just for the "Show Dates" category because that's the only thing those particular people come to my blog to see.
Is there a setting I can change or maybe a plugin I can use to create an RSS feed just for that one category?
Rick's answer:  I think it's great that you blog about Bluegrass, Blake. That happens to be one of my favorite genres of music!
To answer your question, WordPress actually makes it very easy to create an RSS feed for just one individual category. What's more, you don't even have to change a setting or install a plugin to make it happen!
All you have to do is append /feed/ onto the end of that category's URL.
For example, if the "slug" for your blog's "Show Dates" category is showdates, that category's feed URL would look like this:
http://www.example.com/category/showdates/feed/
Pretty simple, huh?
All you need to do is send that URL to your visitors and tell them to add it to their feed reader.
By the way, you can easily use this method to create a separate feed for each of your blog's categories to allow folks to pick and choose exactly what types of posts they wish to subscribe to.
An now, one last note…
Anyone viewing your feed(s) in their Chrome browsers will see what appears to be gibberish by default.
For whatever reason, Google decided not to provide formatting for RSS feeds with Chrome.
But as luck would have it, your feed readers can easily add the formatting they need in order to properly view your feeds in Chrome by installing this handy browser extension.
I hope this helps, Blake. Good luck!
Update from Blake:  Thanks so much Rick! This is just what I was looking for! Great to hear you're a Bluegrass fan!
Bonus tip: This post explains how to protect your WordPress blog from hackers.
---
Never miss a tip!  Click here to sign up for my free Daily Tech Tips Email Newsletter!