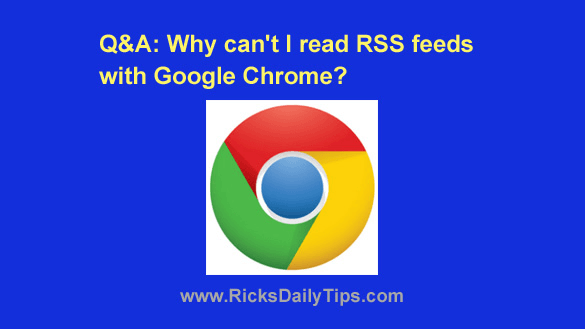 Question from Andrew:  Rick, I have a weird problem and I'm hoping you can help me solve it.
Since I switched from I.E. to Google Chrome I can't read any RSS feeds. All I see is gibberish that looks like computer code.
I really like Chrome, but I really need to be able to read RSS feeds.
Is there any way to fix this? Thanks in advance.
Rick's answer: Andrew, for whatever reason Google decided not to have Chrome support formatted viewing of RSS feeds by default, and there isn't an entry in the settings menu for enabling RSS feeds.
But don't despair, the folks on the Chrome team have provided a handy extension that will display your RSS feeds correctly. Here's how to install it:
1 – Visit this page with your Chrome browser.
2 – Click the Add to Chrome button.
I've been using Google's "RSS Subscription Extension" for years and I've never had a problem with it. I believe it'll solve your problem just fine.
Just so you'll know, most other major browsers correctly format RSS feeds by default, providing a viable alternative if you happen to be one of the many folks out there who aren't comfortable with using browser extensions. Just sayin'.
I hope this helps, Andrew. Please let me know if it works for you. Good luck!
Update from Andrew:  Thanks Rick – Works like a charm!
---