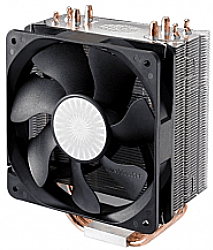 Question from Benji:  I decided to try my hand at building my own PC so I bought the parts from Newegg, and as soon as they arrived I carefully put them together with my nephew's help. Everything worked fine, but the case was to small for my chosen video card to fit comfortably within it.
I bought a larger case and transferred the components from the old case into it, then powered it up. Everything seemed fine for several seconds but then I got a CPU heatsink error. I double-checked everything, and I can't find anything wrong.
Any ideas about what to look for? I'd hate to have to send everything back! By the way, the heatsink/fan is a Cooler Master Hyper 212 Plus.
Rick's answer:  Benji, it sounds to me like the CPU fan is either defective or not properly connected to the motherboard.
You didn't mention the brand and model number of the motherboard, but I recommend checking the motherboard's manual to verify the location of the CPU_FAN header and check to make sure the connector on the end of the wires coming out of the fan are securely and completely plugged into it. If the connection is good, check to see if the heatsink gets warm without the fan turning on. If it does, it's a good bet that you have a bad fan.
Update from Benji:  You sure pointed me in the right direction. The connector was plugged into the wrong place on the motherboard. I plugged it into the right connector and now it works great.
---
Do you have a tech question of your own for Rick? Click here and send it in!
Need expert computer help? Click here to read about the services that I provide.