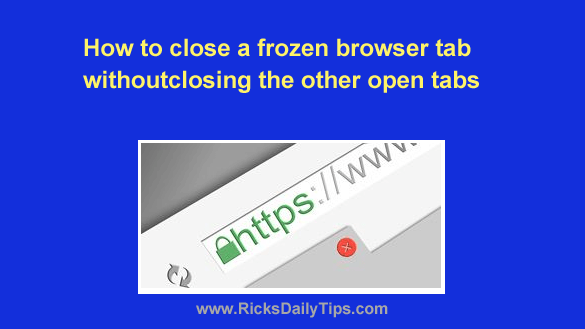 Have you ever had a browser tab freeze up on you?
If so, you know how frustrating it is when you have to close the entire browser including all the other open tabs just to get the PC running normally again.
Well, I have a bit of good news for you: You can usually close just the one browser tab that isn't responding without having to close any of the other open tabs!
The next time a web page freezes up on you, give this a try: 
1 – Right-click on the Start button, then click Task Manager.
2 – Select the Processes tab (if that tab isn't already active).
3 – Find the web browser that has the frozen tab in the "Apps" list, then click the arrow to the left of the Browser name.
Note: The frozen tab will usually be the one that's using a lot of resources.
4 – Right-click on the tab that's frozen, then click End task.
That's all there is to it. If all went well the frozen tab should now be closed and all the other open tabs for that browser should still be open and operating normally.
By the way, if you use Chrome you can do the same thing using Chrome's very own built-in Task Manager.
Just press the Shift+Esc keyboard combination and the Chrome Task Manager will open right up for you.
I hope you found this top useful. Enjoy!
Bonus tip: This post explains how to expand all apps and processes in Task Manager at once.
---
Never miss a tip!  Click here to sign up for my free Daily Tech Tips Email Newsletter!