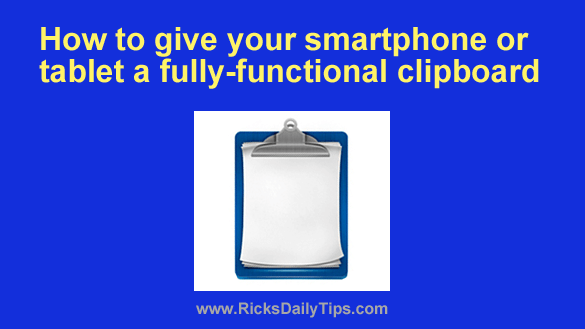 Just like desktop and laptop computers, all smartphones and tablets have a very basic clipboard that allows you to "copy" and "paste" text from one app to another.
Unfortunately, that's about all you can do with it. Even worse, the contents of the clipboard are overwritten every time you "copy" something else.
The good news is you can download a handy third-party clipboard app that will give your phone a fully-functional clipboard. 
Most of the available apps allow you to copy and store multiple snippets which you can then paste into any app, at any time.
There are several great clipboard apps available for both iOS and Android devices.
The ones I like best are Clipper (for Android) and Paste (for Apple iOS). Simply download the app that works with your device.
After you use one of these handy clipboard apps you'll likely wonder how you ever got along without it!
You'll be able to store multiple "copied" or "cut" items at once and paste any of them to anywhere at will.
These apps really are game-changers for enhancing the capabilities of your devices.
By the way, there are apps available for enhancing the Windows and Mac clipboards as well. You'll quickly find several to choose from with this Google search.
What's more, you're a Windows user Microsoft has already given Windows 10 and 11 full-featured clipboards of their very own.
Bonus tip: This post explains how to make your smartphone or tablet charge faster.
---