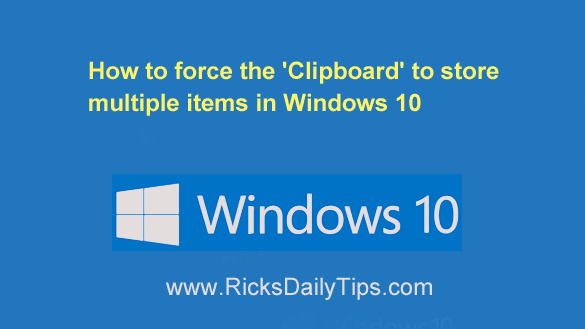 One of the biggest frustrations for Windows users has always been how the Clipboard will only store the last item that was "Copied" or "Cut".
In other words, when you copy or cut an item to the Clipboard, the data that was previously stored in the Clipboard was over-written by the newly-copied or cut data.
There are several great third-party Clipboard tools that will force the Clipboard to store multiple items, and some of them are quite good.
However, Windows 10 and Windows 11 have a "Clipboard History" tool that allows the Clipboard to store multiple items that can be "pasted" at any time with a simple keystroke combination.
For whatever reason Microsoft decided to turn this new "Clipboard History" feature off by default, but you can easily turn it on and start using it right away.
Follow these steps to turn the "Clipboard History" feature on:
1 – Click the Start button.
2 -Click the Settings icon (it looks like a "gear" or "cog").
3 – Click System.
4 – In the left-hand pane, scroll down and click Clipboard.
5 – Toggle the "Clipboard history" setting to On (the slider should turn from gray to blue).
The Clipboard History feature should now be active.
From now on when you copy (or cut) items to the Clipboard all of those items will be stored instead of being over-written every time you copy or cut something new.
However, you can't access all those stored Clipboard items simply by clicking Paste or pressing Ctrl+V as you always have in the past.
Using one of those methods will paste the last thing that was placed in the Clipboard and be done with it. And that's fine as long as you know the last thing you copied or cut is the item you want to paste.
If you want to paste one of the previously stored items you can easily do so by pressing the Windows+V key combination.
Pressing Windows+V will bring up the entire list of previously stored Clipboard items.
Using this new feature is easy. Simply make your copies and cuts the same way you always have, then follow these steps to paste any item that's stored in the Clipboard History:
1 – Click inside the text box or form field where you want to paste the item.
2 – Press the Windows+V key combination.
3 – Scroll through the list of stored Clipboard items and then click on the one you want to paste.
That's all there is to it. Now you know how to use Windows 10's new Clipboard History feature to store multiple items in the Clipboard!
As you might expect, you can delete all the items stored in the "Clipboard History" by clicking the Clear all link.
Important: Just as with the regular Windows Clipboard, any information stored in your computer's "Clipboard History" will be deleted when you shut down or restart your PC. And of course it will also be deleted if you click the Clear all link.
However, if there are items you know you'll want to paste in the future you can "pin" them to the "Clipboard History" to prevent them from being deleted.
All pinned items will remain in the "Clipboard History" forever unless and until you unpin them.
To pin an item to the "Clipboard History" simply press Windows+V and then click the little push pin shaped icon for every entry you want to always have available to you.
To unpin a pinned item simply click its push pin icon again.
Bottom line: The awesome "Clipboard History" feature fixes one of Windows' most enduring frustrations. I hope you like it as much as I do!
---