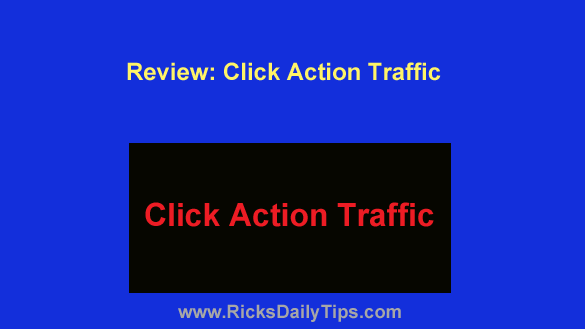 As a blogger I'm always on the lookout for new ways to attract more visitors to my blogs.
A while back I tested and reviewed a newsletter advertising service called 10DollarSoloAds and the results were quite poor (and that's probably an understatement).
Even though that initiative turned out to be a bust, I'm an optimist at heart and not one to give up so I checked some of the blogger forums I participate in and uncovered a recommendation for a service called Click Action Traffic.
The recommendation sounded good so I decided to visit the site to find out exactly what they were offering.
The website itself looks like a throwback to the '90s, but that isn't always a bad sign for these types of sites. But in retrospect, in this case it probably should have been.
According to the website, Click Action Traffic is run by a man named Phillip P. Brewer. Whether that's his real name is questionable, for reasons that will become apparent a bit later.
In a nutshell, Click Action Traffic offers to send visitors to your site by promoting your link in newsletters and other online traffic sources. You are then charged a fee for every "click" your ad receives.
The more clicks you order, the less you'll have to pay for each click.
For example, one plan guarantees that you'll receive at least 100 clicks (and therefore "visits") for $30. That works out to 30 cents per click.
If you've ever been involved with any type of "Pay-Per-Click" advertising you probably know that 30 cents per click is quite reasonable.
This all sounded pretty good to me so I decided to take the plunge and purchase a test package of 100 clicks just to see how things shook out.
However, before placing an order I decided to send Mr. Brewer an email to ask a few questions about the service.
I always make these types of inquiries prior to ordering from any company for the first time, primarily to get a feel for how quickly (and accurately) they respond to customer service requests.
Well, the only contact info I could find anywhere on the Click Action Traffic website was a "Contact" link at the very bottom of the page that linked to this email address:
That looked reasonable enough so I copied the email address and pasted it into a new email's "To" address field.
Next, I typed in a couple of questions and clicked "Send".
Almost immediately I received this in my email Inbox:
As you can see, my email failed to go through. What's more, it said this is a permanent error.
Again, being someone who never likes to give up, I tried sending the email a second time. Same result.
Even though the error messages state that the error is permanent, I've learned over the years that this isn't always true. Sometimes a temporary issue with the recipient's email server will generate this same type of "permanent" error.
However, after getting the same result multiple times over the course of several days I determined that this email address is in fact invalid.
Well, like I said above, I'm not one to give up so I decided to look up the domain's "Whois" information in the Internet's Whois Database to see if it listed a different email address for the domain owner.
What I discovered is Mr. Brewer (by then I was beginning to wonder if that's his real name) has masked his contact info by registering his domain name with a privacy service.
That means instead of providing the domain owner's name, phone number and email address they give you the contact info for the privacy service instead.
I queried the Whois database for both of Mr. Brewer's domains (clickactiontraffic.com and brewermarketingservices.com) and discovered they were both masked.
Wanting to give it one more try, I finally tracked down a "Contact Us" form along with the promise of a quick reply.
I typed my questions into the form and clicked the "Send" button. And much to my surprise, I didn't receive any type of error message.
Unfortunately, I also never received a reply (even after sending three different messages on three different days).
To summarize what I'd learned so far, Mr. Brewer and his website Click Action Traffic can't be contacted at all, for the following reasons:
1 – The "Customer Service" email address they supply is invalid.
2 – The "Contact Us" form on the website either doesn't work or the messages they receive are ignored.
3 – The Whois information that usually tells you who owns a website domain name and how to contact them is masked for both of Mr. Brewer's domains.
Taken together, those two things don't instill a lot of confidence in this company (or in Mr. Brewer himself).
After careful consideration (which took all of about three seconds) I decided that I'd probably be better served looking elsewhere for a little extra blog traffic.
After all, it's quite obvious that Phillip P. Brewer doesn't want to be contacted in regards to the service his website performs. And usually when that's the case there's a reason for it.
Years of experience in the business world has left me with the impression that any legitimate business will provide a means for their customers to contact them. Click Action Traffic does not.
My recommendation: Steer clear of Click Action Traffic and look elsewhere if you're wanting to drive additional traffic to your website or blog.
Bonus tip: If you're looking for a REAL method of driving targeted traffic to your site – virtually on demand, read this.
---
Never miss a tip!  Click here to sign up for my free Daily Tech Tips Email Newsletter!