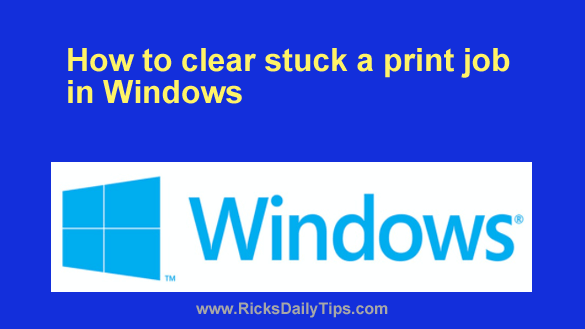 For the most part, the Windows operating system has improved greatly over the years, generally getting better and more reliable with each major update.
But unfortunately a couple of major frustrations still plague Windows users to this day.
1 – The Windows Update process still needs a lot of work (and that's being kind). I addressed that issue a while back in this post.
2 – Stuck print jobs still jam up the works at times, preventing our important documents from being printed when we need them. To make matters worse, this usually happens when we need the printout yesterday.
I'm sure you know what I'm talking about. You click the Print button, and nothing happens. You send the print job again and still nothing happens.
You'd think that as long as Windows has been around Microsoft would have found fixes for these issues already, but it's obvious that they haven't.
There really isn't much we can do about the rickety Windows update process, but there are a couple of ways to clear a stuck print job so your printer can actually print what you need to get down on paper…

First, try saving all open documents and then restarting the PC.
This doesn't always work, but it works often enough that it pays to give it a try.
If a restart fails to clear the stuck print job(s), manually clearing the Print Spooler will get it done for sure.
This is a three step process…

Step 1: Stop the Print Spooler service:
1 – Click the Start button and type the letters cmd.
2 – Right-click on Command Prompt and click Run as administrator.
3 – Answer Yes in response to the "User account control" dialog. A Command Prompt window should now be open on the screen.
4 – Type (or copy and paste) the following after the command prompt:
net stop spooler
5 – Press the Enter key.

Step 2: Delete the stuck print jobs from the folder they are stored in:
1 – Leave the Command Prompt window open and press the Windows+E key combination to open File Explorer.
2 – In File Explorer, navigate to this location:
C:\Windows\System32\Spool\Printers
3 – Select all the files you see listed in this folder and then delete them.
4 – Close the File Explorer window.

Step 3: Restart the Print Spooler service:
1 – Return to the open Command Prompt window and type (or copy and paste) the following after the command prompt:
net start spooler
2 – Press the Enter key.
3 – Close the Command Prompt window.

That's all there is to it. All the previously stuck print jobs should now be gone.
Try printing your document again. If a stuck print job was the problem you should now be able to print your document(s) with no further issues.
---