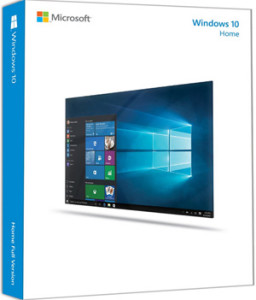 Question from Bobby E.:  I bought a computer at an estate sale a few days ago. The lady told me her dad had built the computer himself a couple of years ago but she didn't know anything about it. I think I got a good deal because it only cost me $30.
Apparently there's no operating system on the hard drive, and I'd like to install Windows 10 on it and use this PC as a backup Internet-only computer.
What I'd like to find out is if the CPU is a 32 bit or 64 bit chip. If it has a 64 bit CPU I'd like to install the 64 bit version of Windows 10. How can I find out?
I really appreciate your help. Thanks in advance.
Rick's answer:  Hi Bobby. I'll be happy to answer your question!
Depending on the BIOS in your machine, it might well display the CPU type during the BIOS Self-Test. That info should pop up on the screen within seconds after you press the power button and turn the computer on.
But if the BIOS info is no help you can still figure out what type of CPU the machine is using.
You can always simply remove the cover from the computer's case and take a look! Depending on the CPU it might have 64 bit written on it somewhere. If not, you can simply type the label info from the top of the chip into Google and find out that way.
But all of that being said, I can already tell you with a high degree of certainty that this PC does have a 64 bit CPU since it was assembled just two years ago.
By the way, did you know that you can get a legitimate copy of Windows 10 for free? Well you can!
All you have to do is join the Windows Insider Program and you'll be able to download the latest preview build (think of it as an alpha, or even a beta version) of Windows 10 at no charge whatsoever.
The fact that it's free is the big advantage of running the "preview" version of Windows 10. But there is also a downside that you need to consider…
The Windows 10 you'll be running on your computer will be a version that's still being tested and having the bugs worked out of it before being released to the public via Windows Update. That's the entire reason there's a Windows Insider Program to begin with.
In a nutshell, the free Windows 10 you'll download as an "Insider" is likely to be buggy – possibly even REAL BUGGY. But since this is going to be a spare PC for Internet use only, that might be perfectly acceptable to you.
I've been a Windows Insider for a long time and I too have a spare PC that's running the latest Windows 10 Preview Build. I have noticed few issues with these preview builds in the past, but occasional bugs do rear their ugly heads from time to time.
If you can live with the possibility that your Windows installation might go heywire at any time, then I say sign up as a Windows Insider and install the latest Windows 10 preview version for free.
After all, you have very little to lose since you won't be doing anything critical with this computer. And you just might find that helping track down and report bugs is a lot of fun! And when things do go wrong, the issues are usually fixed right away.
All of the above being said, if you would prefer to have a stable operating system running on this computer, you have a couple of options:
1 – Simply purchase a Windows 10 license
(#ad) to ensure that you'll always have the latest stable version of Windows running on your computer.
2 – Download and install Linux for free. This would actually be a great option for you since this PC will be be dedicated to Internet use.
I hope this helps Bobby. Good luck!
---
Do you have a tech question of your own for Rick? Click here and send it in!