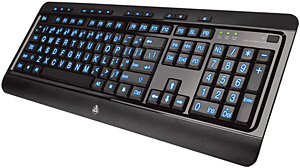 Note: The links in this post are affiliate links.
If you're like me and your eyesight isn't as good as it used to be, you might be interested in hearing about a large print backlit keyboard that I recently received for review.
It's the Azio Large Print Tri-Color Backlit Wired Keyboard, and I really like it.
This wired USB keyboard has over-sized, backlit letters that are extremely easy to see, even when you're sitting in total darkness. That makes it great for night owls who enjoy using their computer while their significant other sleeps nearby in a darkened bedroom.
Since it's currently selling for around $30 on Amazon, I didn't know what to expect from this keyboard in terms of quality, but after plugging it in and trying it out, I can tell you that it seems to be well-built. [Read more…]