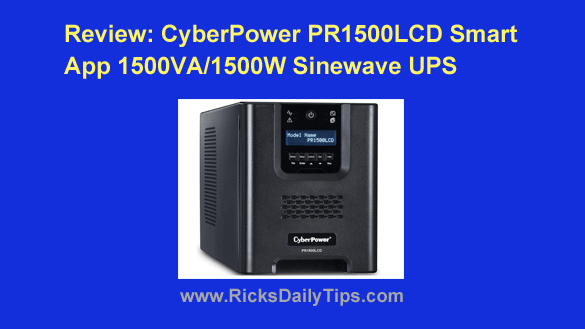 Note: The links in this post are affiliate links.
As you probably know, a battery backup / UPS device can help protect your computer and other sensitive electronic gear from the hazards and inconvenience of power blackouts and brownouts.
And if your home or small office is located in an area that's served by an unreliable power grid, it's absolutely essential that you have your computer and other important equipment plugged into one.
I've tested and reviewed a number of these devices over the years, and for the most part they have all been quite reliable and effective.
I recently had the opportunity to check out the CyberPower PR1500LCD Smart App 1500VA/1500W Sinewave UPS, and I can tell you that it's hands-down the best UPS device I have seen to date.
This isn't just a regular, run-of-the-middle battery backup. It's actually designed to protect high-end gear such as computer workstations, servers, high-end AV gear and other mission-critical devices.
Like all battery backup / UPS devices, the CyberPower PR1500LCD UPS will keep your computer up and running during a blackout long enough to save your open files and safely shut down your system. But this unit also offers a number of important extras:
1 – True Sine Wave Output
Instead of the usual "Simulated Sine Wave" output (that's actually a clipped square wave) that's typically provided by most consumer-grade battery backup devices, this unit provides a true Sine Wave output just like the power coming in from your power grid.
This is important for ensuring that your sensitive gear that requires support for Active PFC Power Source technology is able to work as it should.
2 – Automatic Voltage Regulation (AVR)
Every power grid is susceptible to occasional voltage fluctuations and momentary current surges that can disrupt and/or damage the electronic devices that are attached to it.
This unit's Automatic Voltage Regulation circuitry will protect your gear from those fluctuations and surges without having to switch from wall power to battery power. That is better for your equipment and makes your battery charge last longer.
3 – A handy Extendable LCD Control Panel
If a battery backup device / UPS is located in a place that's hard to reach or where it's difficult to see, you'll find it virtually impossible to read the device's LCD screen and monitor its status.
The CyberPower PR1500LCD UPS comes with a handy Extendable LCD Control Panel that lets you monitor the unit even when you can't actually see it.
4 – Compatibility with Power Panel Business Edition software
You (or your IT personnel) can easily monitor and manage this UPS from afar via a web browser using this powerful free software. They can also monitor and manage multiple UPS devices from the same computer!
5 – A comprehensive Three Year Warranty
The CyberPower PR1500LCD UPS comes with a full three year warranty that covers the entire device, including the battery.
Here's a short video that more clearly explains everything I mentioned above:
As you can see, the CyberPower PR1500LCD UPS is much more than a battery backup device.
It's actually a full-featured Sine Wave UPS that's designed and built to safely power and manage even the most sensitive mission-critical devices.
Bottom line: There are lots of great battery backup / UPS devices on the market today. But if you want the best, most comprehensive service and protection you can get at an affordable price the CyberPower PR1500LCD is well worth a hard look.
Click here to read more about the CyberPower PR1500LCD Smart App 1500VA/1500W Sinewave UPS at Amazon.
---