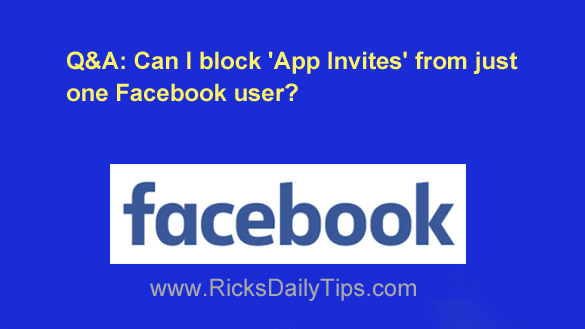 Question from Gene:  Rick, is there any way to block app invites from just one friend on Facebook while still allowing other people to send them to me?
I read your post explaining how to block ALL app and game requests on Facebook, but I don't want to do that.
I just want to block the app requests from one specific person. She's driving me nuts trying to get me to use an app that I really don't want to use.
I don't want to block her completely or unfriend her. All I want to do is block her stupid app requests.
Rick's answer:  There is indeed an easy way to block app invites from just one person, Gene.
All you have to do is follow the steps below…
Note: The following procedure must me performed in a web browser on a laptop or desktop computer because the Facebook mobile app doesn't provide a way to block app requests from a single user.
1 – Log into your Facebook account.
2 – Click the down arrow located at the right end of the Menu bar near the top of the Facebook window.
3 – Click Settings & Privacy.
4 – Click Settings.
5 – Click the Blocking link over in the left-hand column.
6 – Scroll down until you see the section labeled Block app invites.
Note: You might have to do a lot of scrolling if you have a lot people on your Blocked Users list.
7 – Type the name of the friend you want to block app invites from into the "Block invites from" box and then click on their name after it pops up.
8 – (Optional) – Since you stated that you don't want to use this particular app you can block ALL invites for that specific app if you wish.
Simply Scroll down to the "Block apps" section and enter the name of the app you wish to block.
That's all there is to it. Once you've completed the steps above you'll no longer receive app requests from that one Facebook friend.
I hope this helps, Gene. Good luck!
Bonus tip: This post explains how to avoid falling for hoaxes and scams on Facebook.
---
Never miss a tip!  Click here to sign up for my free Daily Tech Tips Email Newsletter!