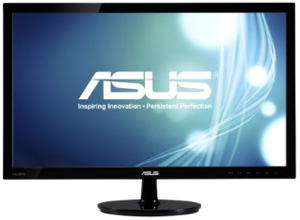 Although a fast CPU and plenty of RAM and hard drive space are important, the monitor is arguably the most important part of any computer system.
After all, you'll be staring at the screen virtually the entire time you're using your computer.
I recently received an ASUS VS228H-P 21.5-Inch Full-HD LCD Monitor (#ad) for review, and after working out a minor quirk I quickly came to realize that I really love this monitor! 
First, let me tell you about the quirk. As with most modern LCD monitors, this one came from the factory with the brightness set just about as high as you can get it. I believe they do this so that if the monitor ends up being on display in a big box store it will appear bright and clear compared to the others on the shelf.
Although the super-bright screen was initially a bit of an annoyance, I was able to quickly adjust it to the correct level in the monitor settings. Problem solved.
Now for the things I really like about the ASUS VS228H-P…
Well, first of all there is the aforementioned brightness. If you like your screen bright and clear, trust me – this is the monitor for you!
Next, there's the clear, sharp text and vibrant colors. If you're like me and do a lot of reading and/or writing, you'll love the way this monitor is so easy on the eyes. The focus and sharpness are incredible. And if you do a lot of work with photos, you'll likely find the colors to be vivid and quite accurate right out of the box.
The technical specs aren't bad either. You'll get 1920x1080p full HD video capability along with support for VGA, DVI-D and HDMI connections. The package includes both VGA and DVI cables, but you'll have to lay out a few bucks extra for an HDMI cable if you want to go that route (which I did).
While reading some of the other reviews of this monitor on Amazon, I noticed that a few users considered the monitor stand to be a little on the flimsy side. Perhaps the particular units they reviewed had different stands, but I found the one on my monitor to be quite stable. This could be one of those things that get "fixed" over time due to customer feedback.
Bottom line: All in all, I like this monitor a lot. I honestly don't think you can beat it for around a hundred bucks!
Click here (#ad) to read more about the ASUS VS228H-P 21.5-Inch Full-HD LCD Monitor at Amazon, including almost 2,500 overwhelmingly positive user reviews.
Bonus tip: Did you know that adding a second monitor to your computer can actually double your productivity? Read this post for more info.
Note: The links in this post are affiliate links.
---
If you think your friends would like this post, I'd love you to share it! Thanks a bunch!