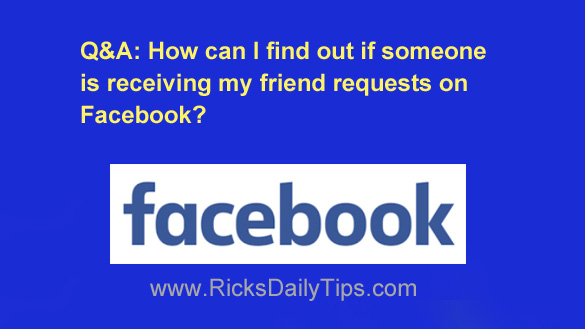 Question from Delores:  Hi Rick. I hope you can answer a question for me about Facebook.
Is there any way to find out if a person I sent a friend request to has received it?
I've sent multiple friend requests to someone I used to work with, but she has never accepted me as a friend on Facebook.
I'd just like to know if she's receiving my friend requests. Can you tell me how to check? Thanks for your help.
Rick's answer: Short of simply asking her, there's really no way to "check" whether your acquaintance is receiving your friend requests, Delores. That being said, I believe it's quite likely that she is receiving them. Here's why…
When you send someone a Facebook friend request on the desktop version of Facebook, the text on the "Add Friend" button will change to "Cancel Request". If you're using the Facebook mobile app it will change to "Requested".
That change in the button text is a signal to you that your friend request has been successfully sent to the other Facebook user.
On your potential friend's end, she'll receive a notification letting her know that you have sent her a friend request. When she sees the notification, she'll be able to take one of three actions:
1 – She can click the "Confirm" button to accept your friend request. You will then be notified that she accepted you as a friend.
2 – She can click the "Delete" button to cancel your friend request. When that happens you'll see that the "Friend Request Sent" button has now been changed back to an "Add Friend" button.
3 – She can ignore your friend request altogether. That would leave the "Cancel Request" or "Requested" button showing forever (or at least until she decides to take some action on your friend request). You'll be unable to send her another friend request as long as the "Cancel Request" or "Requested" button is showing on her profile page.
Bottom line: The most likely scenario is that your friend is indeed receiving your friend requests but keeps clicking the "Delete" button. If she was ignoring your friend request (or if she simply wasn't noticing it) you wouldn't be able to send her additional friend requests.
I hope this helps, Delores. Good luck!
Bonus tip: This post explains why you should be wary of accepting Facebook friend requests from people you are already friends with.
---