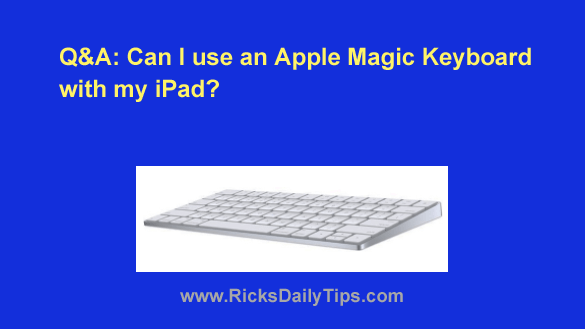 Note: The links in this post are affiliate links.
Question from Sylvia:  I've been wanting to get a full-size keyboard to use with my iPad.
The thing is I want a really good quality keyboard but I can't afford to spend a lot on it.
I just found out that a co-worker of mine has an almost new Apple Magic Keyboard that she's wanting to sell for $30.
My question is will that keyboard work with my iPad? I don't want to buy it if it's not going to work.
And if it will work how do I connect it to the iPad?
Rick's answer: I have great news for you Sylvia. Your co-worker's Magic Keyboard will indeed connect to your iPad, and the two of them will work together just fine.
In fact, lots of folks buy Magic Keyboards just to use with their iPads.
All you have to do is pair the keyboard with the iPad and then you'll be able to get right to work.
Just follow these steps to pair the Apple Magic keyboard with your iPad:
1 – First, turn on the keyboard.
2 – On your iPad, tap the Settings icon.
3 – Tap Bluetooth and then turn it on.
4 – Tap the Magic Keyboard when it appears in the "Other Devices" list and then follow the instructions as they appear.
Note: Sylvia, this doesn't apply to you since you'll be using this keyboard for the first time, but if anyone reading this has a Magic Keyboard that's already paired with another device they'll need to "unpair" the keyboard from that device before trying to pair it with an iPad.
That's all there is to it. Once the Magic Keyboard has been paired with the iPad it will automatically become the active keyboard for the device whenever the two devices come within Bluetooth range of one another.
When you take the iPad out of the Magic Keyboard's range the tablet's onscreen keyboard will automatically take over.
I hope this helps, Sylvia. Good luck!
Bonus tip: This post explains how to recognize and avoid the dangerous "Your Apple ID Has Been Disabled" scam that's currently making the rounds.
---