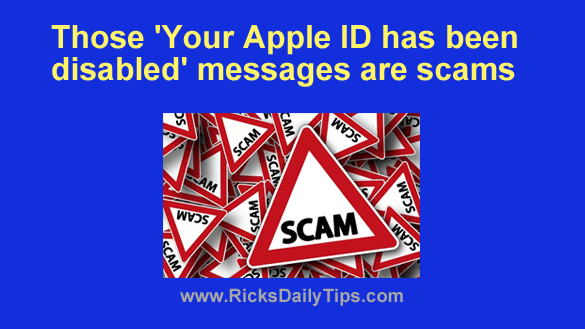 An old, but dangerous scam that targets Apple customers recently started making the rounds once again.
As usual, there are several variations of the scam, but they all work something like this…
You receive a text message or social media IM stating that your Apple ID has been disabled due to an "unusual sign-in attempt" or some other pretext.
At first glance the message will appear to be legit, but if you look closer it's usually easy to see that it's a fake. 
The first clue that these messages didn't really come from Apple is the fact that Apple never sends this type of information in a text message or via any form of social media correspondence. They just don't.
The next clues to look for are obvious spelling and grammar mistakes. Neither Apple nor any other legitimate company would ever send a message containing those types of errors  to their customers.
Next, take a look at the URL you're supposed to click to "verify your account" and you'll see that the link won't take you to the real Apple website if you click on it.
Instead, it'll take you to a fake phishing website where you'll be asked to enter your Apple ID and password. If you fall for it and enter that info you'll end up handing over your Apple account's login info to a hacker!
If you receive a message that's even close to the one you see above simply delete it.
Then visit the official Apple website directly at https://www.apple.com and sign in to your account account from there.
If you're able to log into your Apple account via the official Apple website you'll know right away that your account hasn't been locked or disabled.
And finally, just in case you're wondering, there's really no need to report the fake message to Apple since they've already received numerous reports about this scam from other customers.
All your report would do is add to the deluge of messages that are no doubt landing in Apple's Support inbox at the moment.
---