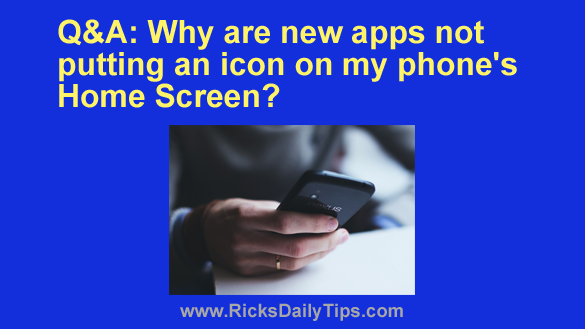 Question from Pat:  When I first got my Android phone it would put an icon on the Home screen every time I installed a new app, but it's stopped doing that.
Now I have to find every new app's icon in the app drawer and drag it onto the Home screen manually.
I know it must be a setting that needs to be changed but I can't find it. Can you help? 
Rick's answer: I've found myself in this same situation several times before Pat, so I know how irritating it is.
As you imagined, this is just a simple settings change.
This feature is usually turned on by default, but apparently it got turned it off by accident at some point.
Luckily, it's easy to force your Android phone to place an icon on the Home screen every time you install a new app. Just follow the steps below:
1 – Tap and hold your finger on a blank area of the Home screen until a menu pops up.
2 – Tap Home Settings.
3 – Toggle the Add icon to Home screen setting to On.
That's all there is to it. From now on your phone will place an icon for every new app you install right on the Home screen.
I hope this helps, Pat. Good luck!
Update from Pat: Thanks for helping me out with this Rick. I was looking for this setting in the phone's "Settings" app. That's why I couldn't find it. I knew you would have the answer!
Bonus tip: This post discusses a simple way to make your Android phone's battery last a little longer between charges.
---