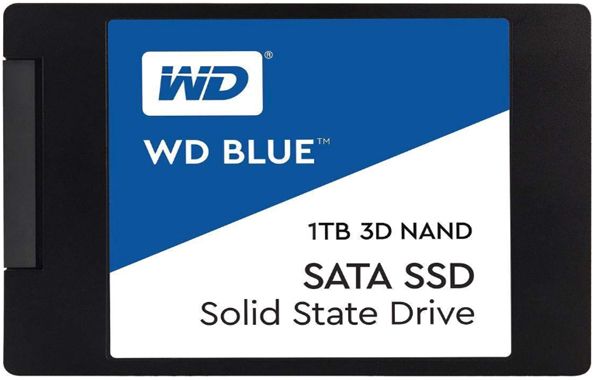 Regular readers of this blog know that I often recommend replacing your computer's hard drive with a super-fast solid state drive (SSD).
As I explain in this post, SSDs have several advantages over spinning hard drives.
But unfortunately they've always had one major disadvantage as well: SSDs have always cost a lot more than hard drives with the same storage capacity.
Well, thankfully that's rapidly changing.
Last night I spent some time browsing the large selection of SSDs at Amazon (#ad) and noticed just how far the prices for 1TB SSDs have fallen since the last time I checked.
There are now several models of 1TB SSDs selling for pretty close to $100, a price would have been unthinkable barely a year ago!
And you don't have to settle for a "cheap" off-brand to get a drive in that price range either.
For example, I just saw a top-rated WD Blue 3D NAND 1TB SSD (#ad) selling for $118!
That's an awesome deal in my opinion.
Of course there are hard drives out there that are larger than 1TB, but many desktop computers and most laptops still come with 1TB drives (or even smaller).
In my opinion that makes an affordable 1TB SSD a fantastic bargain in today's market.
Bottom line: Larger SSDs will coming down the pike real soon, but if you could use the awesome speed of an SSD right now I really don't see any reason to wait given the current low prices of high-quality brand-name 1TB drives.
Bonus tip #1: If you decide to upgrade your computer to a super-fast SSD, this post explains the easiest way to clone the contents of your hard drive to the new SSD.
Bonus tip #2: Want to make sure you never miss one of my tips? Click here to join my Rick's Tech Tips Facebook Group!
---
Want to ask Rick a tech question? Click here and send it in!
If you found this post useful, would you mind helping me out by sharing it? Just click one of the handy social media sharing buttons below.