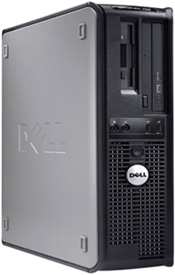 Question from Eddie V.:  The county I live in had a massive auction of surplus items and I ended up buying 168 Dell OptiPlex 755/SDT desktop computers. They all appear to be identically configured with these specs:
1.8 GZ Dual Core Pentium CPU
1 GB RAM
80 GB Hard Disk
DVD-RW Drive
19″ Dell Monitor (older CRT type)
Windows XP Pro
I know that older computers aren't worth a lot these days, but I thought these were worth a bid simply because there were so many of them. I ended up winning the auction and paying $216 for the lot.
My big concern is they might not be worth anything at all since Microsoft has officially killed off Windows XP. What do you think I could do with these computers to make a little bit of money from this deal?
Rick's answer:  Eddie, I'd say you made out like the proverbial bandit on this deal. What I would do if I were you is install Ubuntu Linux on them in place of Windows XP, then sell them individually as dedicated Internet computers.
I don't think you'd have a bit of trouble selling them for $50 each, but even if you only get $30 each (assuming they all work), you'd stand to make almost $5,000 after deducting what you paid for them and any fees associated with selling them.
That being said, I seriously doubt that all 168 PCs will be in working order, but you could probably fix many of the non-working ones by pulling good parts from the "bad" ones to fix the rest.
Be prepared to put some serious time into the process of testing the computers, repairing them as needed and then installing Ubuntu on them. But you don't have to do them all at once.
I recommend that you place your ad(s), then spend a couple of hours getting 3 or 4 of them ready to sell. Once they're all gone you can get 3 or 4 more of them ready to sell. Repeat as necessary until they are all gone.
Good luck Eddie, and congrats on a getting such a great deal!
---
Do you have a tech question of your own for Rick? Click here and send it in!