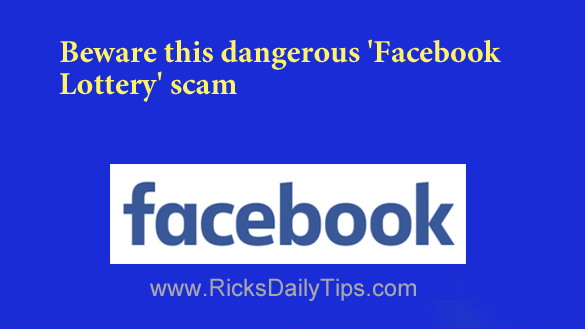 Click here to sign up for my free Rick's Tech Tips Newsletter!
---
As you probably know by now, scammers love to target unsuspecting users on social media.
And of course Facebook is their favorite venue for perpetrating their scams due to its massive user base.
Well, there's a recurring scam once again making the rounds on Facebook that's targeting users who enjoy participating in lotteries.
There are several variations of this scam but they usually go something like this…
You receive an instant message from someone claiming to be a Facebook executive, most often Mark Zuckerberg himself.
Some of the scam messages being received were sent via email as well.
The fraudulent messages proudly proclaim "Congratulations, you have won the Facebook Lottery!" or something very similar.
The only catch is before you can claim your winnings you'll need to enter your Facebook login credentials and banking info into a fake winner's claim form.
Of course the entire message is a scam, from start to finish…
Facebook isn't hosting a lottery, and even if they did there wouldn't be numerous "winners", each of whom are contacted personally by Mark Zuckerberg.
As always, the scammers behind this ruse are playing on the natural human desire to be a winner and strike it rich.
What they're trying to trick you into handing over you login and banking info. Don't fall for it!
Most of us have this desire on a certain level and that makes it easy for the scammers to con a significant number of victims into sending them some cash.
And with over 2 billion Facebook users it only takes a tiny fraction of them falling for the scam to add up to a major payday for the crooks.
Bottom line: If you receive an instant message or email claiming that you've lucked out and won the "Facebook Lottery", simply delete the message and move on. There's no reason to waste your time reporting it because they've already been reported numerous times.
---
Click here to ask me a tech question.