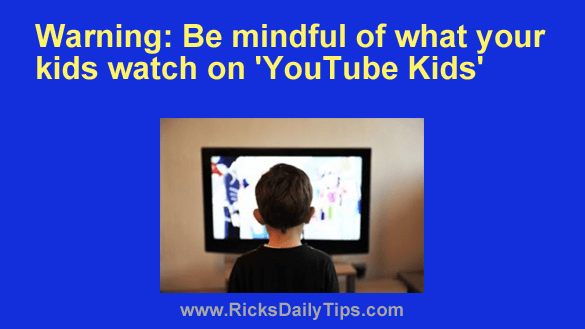 If you have small children you're likely familiar with YouTube Kids.
If not, it's simple a special "kids only" version of the ultra-popular YouTube video streaming service.
Overall, Google (the owner of YouTube) does a great job at making sure the videos available on YouTube Kids are truly kid-friendly, but occasionally a not-so-kid-friendly video will slip through the cracks. 
And truth be told, some of the "bad" videos that have been discovered on YouTube Kids were absolutely horrible, dealing with topics that should never be available on a website that's frequented by children. In fact, a few of them actually put kids' lives at risk.
That's why it's wise to always pay attention to what your kids are watching.
Please don't this as "preaching" because it certainly isn't meant that way, but YouTube Kids should be viewed as a handy resource for parents who want to allow their kids to watch fun and educational videos that are generally quite safe, not a substitute for a baby-sitter.
If you want to ensure that your child never sees anything on YouTube Kids (or any other streaming service for that matter) that can be harmful in some way, I recommend that you watch the videos with them, at least the first time your child watches a particular video.
That way you should be able to quickly spot something that's inappropriate and stop the video before any real harm is done.
---