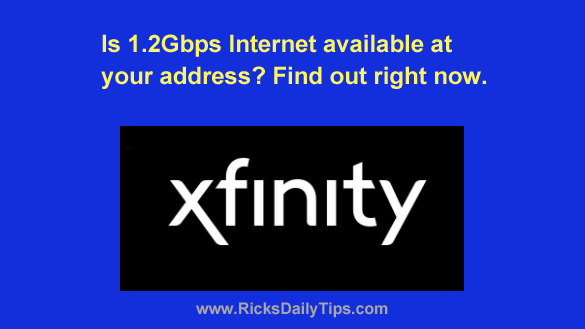 I recently received a heads-up from a friend that Xfinity was now offering 1.2Gbps Internet service in my neck of the woods.
I did a little checking around and discovered they are now offering Gigabit+ download speeds in most of the areas they currently service.
I visited Xfinity's service availability page and sure enough, 1.2Gbps service is indeed available on my street.
What's more, I discovered that the 1.2Gig speed would actually cost me $10 less per month than what I had been paying for the much slower 200Mbps service!
That made signing up for the upgrade a no-brainer.
I tried to sign up for the upgrade on the website but I was unable to complete the sign-up process because I also have their Xfinity Voice landline telephone service and there was no way to sign up online and keep my existing phone number.
Undeterred, I called 800-COMCAST and signed up over the phone. I received the new DOCSIS 3.1 gateway that's required for receiving the higher speeds a couple of days later.
Installing and activating the new gateway was a breeze…
All I had to do was disconnect the old gateway and plug in the new one, then sign into the Xfinity app on my phone and tap a button to initiate the activation process.
The app transferred all of the login and WiFi info from the old gateway to the new one, and in about 10 minutes I was enjoying a MUCH faster Internet experience.
I ran an Internet speed test courtesy of Speedtest.net, and as you can see in the screenshot below I'm now I'm getting over 900Mbps download speed.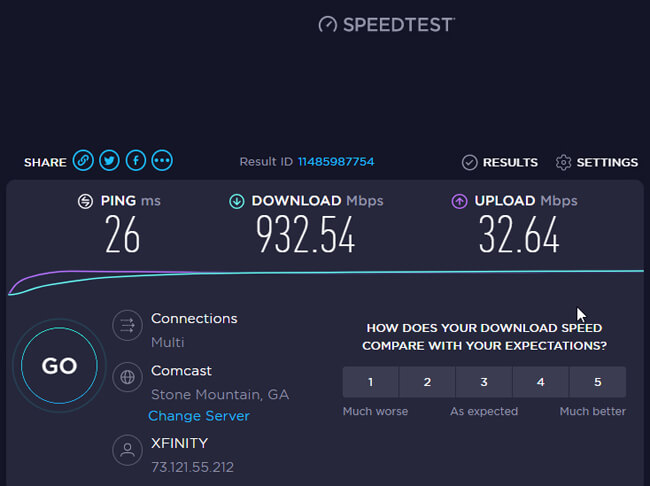 Is that awesome, or what? And that's with three other devices using part of the 1.2Gbps bandwidth while I was running the speed test.
I'm now getting roughly 6X the download speed I was getting just last week, and my Internet bill went DOWN by $10 per month to boot!
Bottom line: If you have Internet through Xfinity I strongly recommend that you check to see if 1.2Gbps service is available at your address.
If it is (and you aren't already signed up for it) you'll be able to dramatically increase the speed of your Internet connection and (possibly) even lower your monthly bill!
To find out if 1.2Gbps Internet is available at your location simply visit this page. (Note: You might be prompted to enter your street address.)
If you see a 1.2Gbps option listed on the screen, you're in luck!
---