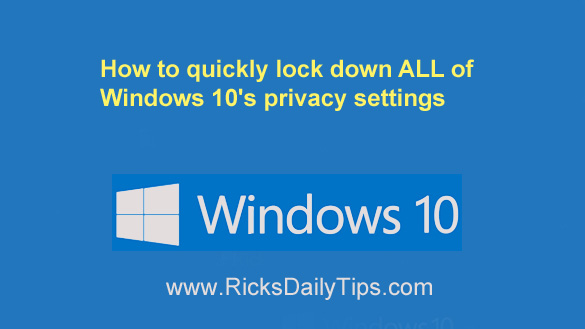 In my opinion Windows 10 is the best version of Windows ever released by Microsoft.
But that being said, its default privacy settings are extremely invasive.
Luckily, you can change the privacy settings to make Windows 10 just as stingy with your personal info as its predecessors were, but Microsoft has scattered those many settings all around the various nooks and crannies of the Windows user interface.
Luckily, there's a free tool called WPD that puts all of Windows 10's privacy settings in one place, making it easy to find and change the particular settings you're looking for.
Even better, WPD also explains what all the various settings do. That means you won't have to scratch your head as you try to figure them out on your own.
Sound good? If so, follow the steps below to download WPD and use it to tweak your PC's privacy settings to your liking:
1 – Click here to visit the WPD download page.
2 – Click on the blue Download button.
3 – Copy the downloaded downloaded zipped folder to your Windows desktop.
4 – Right-click on the zipped folder and click Extract all, followed by Extract.
5 – Open the newly-created folder and double-click on the WPD.exe file to launch the tool.
6 – Click Yes in response to the 'Windows Account Control' dialog.
7 – Click the Privacy button to display all the Windows privacy settings.
8 – Click the blue slider button for each setting that you wish to change.
If you're unsure about what a particular setting does, click the question mark (?) beside the setting for a brief explanation. Disabling a setting will change the slider from blue to white.
Note: If you click the Switch All button that will deactivate ALL the privacy settings in one fell swoop. I recommend that you ignore this button and make the changes individually as explained above.
That takes care of all the basic privacy settings, but there are a few more that you need to consider…
Over in the left-hand column you'll see a vertical list of icons. The "lock" icon represents the Privacy settings tab that you just finished using to select your desired privacy settings.
There are a couple of other tabs that might interest you as well:
1 – Firewall Settings – If you click the "shield" icon you'll be able to configure settings for the Windows Firewall. If you aren't familiar with how the Firewall works I recommend that you skip those settings.
2 – Uninstall Windows Apps – If you click the icon that looks sort of like a "Rubik's Cube" you'll be able to remove installed Windows apps from your PC. And yes, that includes the Xbox app and other apps that Windows won't allow you to remove the regular way.
That's all there is to it. Your Windows 10 privacy settings are now locked down and your Windows installation is operating as discreetly as possible.
Bonus tip: Check out Windows 10 for Dummies, a fantastic guide for learning the ins-and-outs of Windows 10.
---
Never miss a tip!  Click here to sign up for my free Daily Tech Tips Email Newsletter!