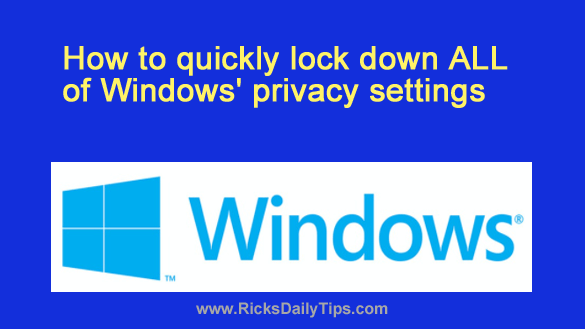 Although I wasn't all that impressed with Windows 11 initially, I've grown accustomed to it and I now feel a lot better about recommending the update from Windows 10.
But that being said, like Windows 10 before it, Windows 11's default privacy settings are extremely invasive.
Luckily, you can change a number of privacy settings to make both Windows 11 and Windows 10 just as stingy with your personal info as their predecessors were, but Microsoft has scattered those many settings all around the various nooks and crannies of the Windows user interface.
Luckily, there's a free tool called WPD that puts all of Windows' privacy settings in one place, making it easy to find and change the particular settings you're looking for.
Even better, WPD also explains what all the various settings do. That means you won't have to scratch your head as you try to figure them out on your own.
Sound good? If so, follow the steps below to download WPD and use it to tweak your PC's privacy settings to your liking:
1 – Click here to visit the WPD download page at OlderGeeks.
2 – Scroll to the bottom of the page and click on the huge green Download Now link.
3 – Copy the downloaded downloaded zipped folder to your Windows desktop.
4 – Right-click on the zipped folder and click Extract all, followed by Extract.
5 – Open the newly-created folder and double-click on the WPD.exe file to launch the tool.
6 – Click Yes in response to the 'Windows Account Control' dialog.
7 – Run the program and select the Privacy tab, then disable everything that makes you feel a bit queasy (or you simply don't need to have enabled).
If you're unsure about what a particular setting does, click the question mark (?) beside the setting for a brief explanation. Disabling a setting will change the slider from blue to white.
Note: If you click the Disable All button that will deactivate everything in one fell swoop. I recommend that you ignore this button and make the changes individually as explained above.
That's all there is to it. Your Windows privacy settings are now locked down and your Windows installation is operating as discreetly as possible.
---