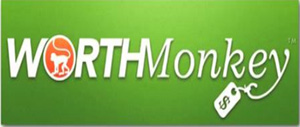 Do you have a used computer, cell phone, tablet or other device that you're wanting to sell? Or perhaps you looking to buy one?
The most difficult part of buying or selling a used electronic item is making sure you negotiate a fair price. But I recently discovered a nifty website that makes it quite easy by giving you a fairly accurate estimate of most any gadget's true resale value. 
WorthMonkey determines the estimated value of an item by scanning online auction sites, the used or refurbished section of retailer websites, classified sites and other venues where used items are bought and sold, then analyzing the asking and selling prices to determine a low price, a fair price and a high price for the item.
You can search for the item you're interested in buying or selling by brand and/or model number.
In addition to electronic devices, you can also search for the actual value of other items such as automobiles, motorcycles, boats sports equipment and even clothing.
Want to give WorthMoney a try? Click here and have tons of fun!