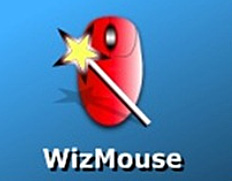 You might have noticed that when you have two or more windows open at once, in order to scroll the contents of an inactive window you have to first click it to make it the active window. This can be quite annoying if all you want to do in that window is scroll the contents up or down a bit.
Well now there's a nifty little free download that will make your mouse work the way it should have worked all along. It's called WizMouse, and once it's loaded your mouse wheel will scroll the contents of the window that's directly under the mouse pointer without making that window active! What a time-saver! 
As mentioned earlier, WizMouse is completely free. It's also tiny and uses very few of your PC's precious resources. Even better, WizMouse is a "clean" download that doesn't install a bunch of other unwanted programs along with it.
Bottom line: WizMouse is one of those indispensable little Windows utilities that perfectly performs a function that should have been included in Microsoft Windows a long time ago.
To install WizMouse on your PC, simply visit this page and click the green Download button.