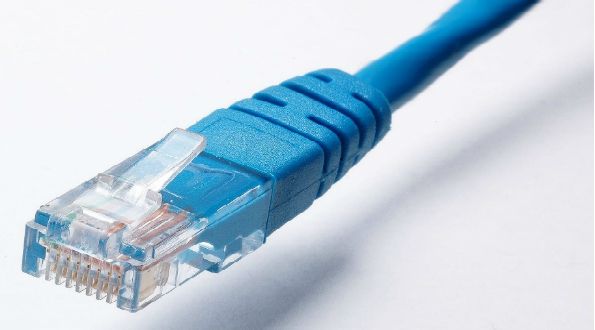 Question from Carla:  I recently purchased an 80 year old farm house and it's currently being renovated with pretty much a complete overhaul.
I've hired an electrician to completely rewire the house and install a new service panel in the basement. He's supposed to start the job next week.
He told me I should also let him wire the three bedrooms and the den with wired Ethernet connections because it'll be really easy and relatively inexpensive since he'll be running wires for the electrical service to those rooms anyway (the walls and ceilings will be bare at that point).
That sounds like a great idea because I'll have desktop computers in two of those bedrooms (I'll be using one as my office).
The thing is I'm not sure he's planning to wire up the Ethernet connections correctly. I really need your advice on that.
What he plans to do is run one cat 6 wire from the router in the basement to each of those four rooms. He said he can daisy-chain them and it'll take less wire than it would take if he ran a separate wire from the router to each of the rooms.
I know the basics of connecting devices to a router with Ethernet cables and this just doesn't sound right to me.
Doesn't each room have to have its own Ethernet cable or is there some technology that I don't know about that allows you to daisy-chain several devices over a single cat 6 wire?
Rick's answer:  You were right to question that wiring plan, Carla.
While it's indeed possible to daisy-chain multiple devices onto a single Ethernet cable, that often doesn't work out very well in the long run.
Plus, you'll need to spring for some extra equipment in addition to just the cat 6 cable and RJ-45 wall jacks. That means your overall cost savings from using less wire will be offset by the costs of the additional equipment.
In addition to the added equipment costs, daisy-chaining also makes it more difficult to troubleshoot and fix wiring issues that arise in the future (and a problem with the wire can take down all of your connected devices in one fell swoop).
Even worse, if the physical connections with the wires weren't made correctly, your devices might not be able to establish a connection with the router at all. And all it would take is one simple wiring mistake to sabotage the entire network!
The thing is you might not find any of that out until after the walls and ceilings are all finished, and that could make tracking down the problem and fixing it rather expensive and time-consuming.
Bottom line: Every device you connect via wired Ethernet really should have its own dedicated Ethernet cable running between the device and a LAN port on the router.
I do agree that it's a great idea to extend a wired Ethernet connection into each room while the walls and ceilings are bare, but I strongly recommend that you insist that the electrician use a "Home Run" wiring scheme (every RJ-45 jack will have its own wire connecting it to the router) instead of daisy-chaining the connections.
I hope this helps, Carla. Good luck with the renovation!
Bonus tip #1: This post explains the easiest way to (possibly) extend a wired Ethernet connection to a free-standing garage or other type of outbuilding on your property.
Bonus tip: Want to make sure you never miss one of my tips? Click here to join my Rick's Tech Tips Facebook Group!
---
Would you like to ask Rick a tech question? If so, click here and send it in!
If you found this post useful, would you mind helping me out by sharing it? Just click one of the handy social media sharing buttons below. Thanks a bunch!