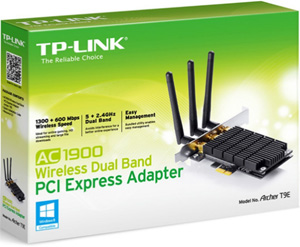 Question from Donna Q.:  The wireless network adapter in my Gateway desktop computer has stopped working and I need to replace it. I looked on Amazon and BestBuy.com and there are so many to choose from!
I have a Netgear AC 1600 router so I'd like to get a wireless adapter than can connect to it at the fastest speed possible. I'm not all that concerned with price as long as it's a really good product.
I would appreciate it if you could give me a recommendation. Thanks.
Rick's answer:  Donna, you're right about all the wireless cards there are to choose from. It really can be hard to choose one from the crowd. But there is one in particular that I really like and recommend over all the others to match up with your router.
The TP-Link AC1900 Wireless Dual Band PCI-Express Adapter with Beamforming Technology (#ad) is an excellent wireless card that will work perfectly with your router at the fastest speed the router supports. I think you'll be quite happy with it.
This card will plug into an open PCI Express slot inside your PC. In fact, you should be able to remove the one that's in there now and install this one in its place, and that's what I recommend that you do.
This is what this adapter looks like:
This is a dual band wireless adapter that supports combined speeds of up to 1900Mbps. And like your router, it supports the latest encryption technology to ensure a secure wireless connection.
Bottom line: I use this wireless adapter in my work computer that's running Windows as well as an older PC that's running Ubuntu Linux. It works extremely well in both machines. I love this card, and I really believe you will too.
Click here (#ad) to read more about the TP-Link AC1900 Wireless Dual Band PCI-Express Adapter with Beamforming Technology at Amazon, including well over 800 overwhelmingly positive user reviews.
---
Do you have a tech question of your own for Rick? Click here and send it in!
If you think others would like this post, I'd love you to share it! Just click one of the handy social sharing buttons below.