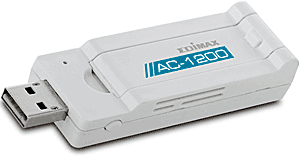 Question from Chris J.:  The wireless adapter in my Dell laptop has stopped working and I'm planning to replace it with a USB wireless adapter.
I'd really like to upgrade to Wireless AC speed but my laptop has the older USB 2.0 ports instead of USB 3.0, and I've noticed that the AC class devices I've checked out all brag that they work with USB 3.0.
What I need to know is will a Wireless AC USB adapter work when plugged into a USB 2.0 port? If not, I'll probably just save some money by choosing a Wireless N adapter.
Rick's answer:  Chris, the short answer to your question is yes, an AC class wireless USB adapter will work just fine when plugged into a USB 2.0 port.
Keep in mind that the USB 2.0 standard supports a maximum speed of just 480 Mbits/second, which is far slower than a a typical AC class wireless USB adapter is capable of transmitting data at.
But that being said, I think you should consider going with a Wireless AC adapter anyway since they are backward compatible with USB 2.0. These devices tend to last a long time, and you never know when you might need a USB wireless adapter for a machine that does have an open USB 3.0 port.
I've seen AC class wireless adapters on sale for just a little more than you'd have to pay for a Wireless N model. A great example is the excellent Edimax Wireless AC1200 Dual Band USB 3.0 Adapter (#ad) that's currently selling on Amazon.
Bottom line: In my opinion it's well worth a few extra dollars to go with the latest wireless technology, even if you can't take full advantage of it at the moment.
I hope this helps Chris. Good luck!
---
Do you have a tech question of your own for Rick? Click here and send it in!
Like this post? If so, I invite you to share it on social media. Just click one the handy buttons below.