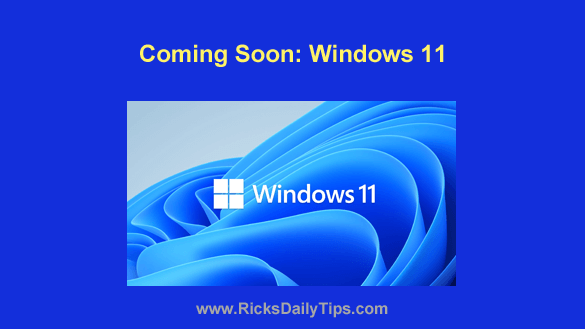 Like my tips?  Click here to sign up for my free Daily Tech Tips Newsletter and you'll never miss one!
---
Soon after Microsoft released Windows 10 back in July 2015 I began receiving occasional questions from folks asking when they would be releasing Windows 11.
Every time someone asked I emailed my contact on the Windows 10 Development Team to find out when Microsoft would be releasing Windows 10's successor. The answer was always an emphatic…
"There will be no successor. Windows 10 is the last version of Windows ever."
Therefore, that was always my answer as well.
And as you can see here, the folks at TechRadar were receiving the same answer from Microsoft.
Well now it appears that the powers that be at Microsoft have changed their mind.
This page on the Microsoft website provides all the currently-available details about Windows 11's new look, features and availability. It also provides several screenshots of Windows 11 in action.
There is no official release date for Windows 11 as of yet (they're still refining things and squashing bugs) but I'll be installing the "Preview" edition on one of my PCs after it's released next week and begin putting it through its paces.
My contact on the Dev team told me Windows 11 was built upon the Windows 10 core. Hopefully that's a good thing since most of the bugs with Windows 10's core code have already been eradicated.
But we can (and should) expect to see plenty of bugs springing forth from the new user interface and numerous other changes that will have been made by the time Windows 11 is officially released.
Based up on what I've seen in screenshots and videos so far, it appears that Windows 11's new user interface (i.e. outer shell) has been changed to greatly resemble Apple's macOS.
You can catch some glimpses of Windows 11's new look in this short video:
However this all shakes out, it'll be shaking out fairly soon.
Depending on how quickly Microsoft can get most of the bugs worked out we can probably expect Windows 11 to start rolling out to the masses some time before the Christmas shopping season begins in earnest.
Just as with Windows 10, the update to Windows 11 will be free for existing Windows 10 users (and probably users of certain other Windows versions as well).
And also just like with Windows 10, the update will likely become more or less mandatory at some point.
Bottom line: Windows 11 is on the way. I recommend that you take that into consideration before laying out your cash for a new PC if you're planning to buy one any time soon.
Once I have the Preview edition installed I'll begin writing posts about it, including both opinions and tips.
Buckle up because it might be a wild ride.
---
If you found this post useful, would you mind helping me out by sharing it?
Just click one of the handy social media sharing buttons below. Thanks a bunch!