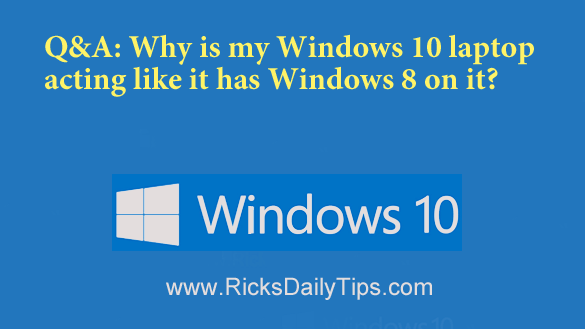 Click here to sign up for my free Rick's Tech Tips Newsletter!
---
Question from Betty:  I have an Acer laptop that came with Windows 8 but was later updated to Windows 10.
It works great except for one problem.
This computer always booted to the Desktop after I installed Windows 10 but this morning it booted to what looks very similar to the old Windows 8 "Start Screen".
My friend came over and used my computer last night and he must have done something to make it start doing this.
I really, really, REALLY want to use my computer with the Desktop instead of a stupid Start Screen. How can I fix it?
Rick's answer:  Betty, it sounds like your friend switched your Windows installation from "Desktop Mode" to "Tablet Mode", either by accident on for some purpose known only to him.
Tablet Mode is a special mode that makes the screen on your Windows device more "touch" or "tap" friendly by displaying a Windows 8 style "Start Screen" with large, easy-to-tap tiles instead of the Windows Desktop with its much smaller icons.
This special mode is most useful on Windows tablets, but it can also be beneficial for Desktop PC users with certain disabilities (diminished eyesight for example).
If a simple settings change is indeed the culprit here, it's quite easy to reverse it by simply changing that setting back to Desktop mode. Here's how:
1 – Press the Windows key and then start typing the word tablet.
2 – Select Tablet settings after it appears in the list of search results.
3 – Toggle the "When I sign in" setting to Never use tablet mode.
4 – Click the X in the top-right corner of the Settings app to close it.
5 – Sign out of your Windows account and then sign back in.
That's all there is to it. You should now see the regular Windows Desktop instead of the Start Screen. If not, let me know and I'll tell you what to try next.
Update from Betty:  That was it Rick. My screen is back to normal now. Yay!!!! Thank you!
Bonus tip: This post explains how to speed up your Windows 10 PC by disabling 'Pretty' features.
---
Cick here to ask me a tech question.