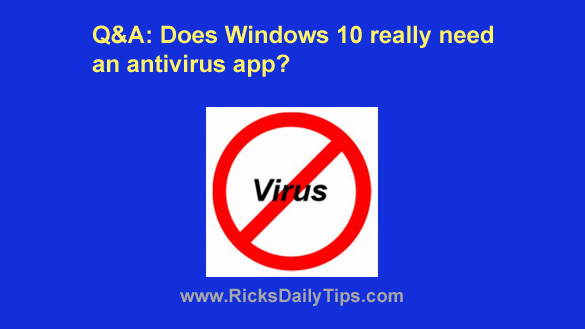 Question from Marge:  I just bought a refurbished laptop with Windows 10 on it and I want to make sure it'll be safe from viruses.
It seems like I remember reading somewhere that you don't need to buy an antivirus program for Windows 10 because it comes with one built-in.
The problem is other things I've read said you do need to install and antivirus program.
Which one is true? 
I definitely want to protect my computer from viruses but I don't want to pay for a program I don't need either.
Rick's answer: You're absolutely right, Marge. Windows 10 indeed comes with an integrated antivirus app called Microsoft Defender.
And although there are third-party antivirus solutions that are better, Windows Defender is actually pretty good. And it's getting better all the time!
You said you don't want to pay for a program you don't need, and I don't blame you. I don't either.
Luckily, you have two free options for effective virus protection available to you:
1 – Use the Microsoft Defender security app that your new computer will come with and augment it with the free version of Malwarebytes.
Just visit  this page on the Malwarebytes website and click the big "Free Download" button.
Note: When you install Malwarebytes you'll actually be installing a 14 day free trial of the paid Malwarebytes program.
At the end of the 14 day trial period simply do nothing and your Malwarebytes installation will revert to the free version.
2 – Download a good free antivirus program (I happen to like AVG) and augment that with the afore-mentioned free version of Malwarebytes.
Note: After you install any third-party antivirus program Microsoft Defender will detect that another antivirus app is installed and automatically disable itself.
This is important because you should never run more than one full-time antivirus program at a time. This post explains why.
Bottom line: Windows 10 indeed comes with an antivirus app called Microsoft Defender, and it'll be a great option for protecting your new laptop from viruses and other forms of malware as long as you augment it with the awesome extra protection provided by Malwarebytes.
---