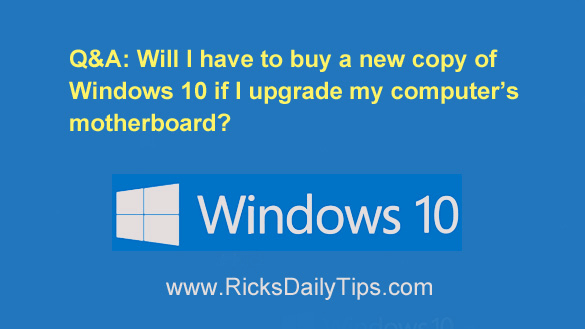 Question from Paul:  I have a custom built gaming PC that I bought in January 2014. It came with Windows 8.1 on it.
I then updated the machine to Windows 10 while Microsoft was allowing the upgrade for free.
Now I'd like to upgrade the machine itself by installing a new, more powerful motherboard.
My question is will I be able to reinstall Windows 10 and have it activate after replacing the motherboard? 
I didn't get a Windows 8.1 disc with the computer when I bought it and I don't have a Windows 10 disc either because the Windows 10 update was installed over the Internet.
I know I can download a fresh copy of Windows 10 from Microsoft but I'm concerned that it won't activate due to the new motherboard.
Any advice you can give me will be appreciated because I don't want to have to buy a Windows 10 disc if I can avoid it. Do you think I'll have to?
Rick's answer: Paul, you're wise to be concerned about this because a new motherboard will definitely cause your new Windows 10 installation to fail the activation step if you simply install the new motherboard without preparing for the upgrade in advance.
The good news is an activation failure wouldn't result in you having to buy a new copy of Windows 10 because there are ways to get Windows 10 activated in situations like that.
But the above being said, preparing for the upgrade in advance will save you a lot of time and headache in the long run.
The folks at Microsoft have provided this excellent guide that explains exactly what you need to do in order successfully get Windows 10 activated after you've completed the motherboard upgrade.
Be sure to read that information carefully and follow the steps as they appear.
Once you've completed those tasks you should be able to install a fresh copy of Windows 10 onto the "new" machine with no trouble at all using the credentials that you retrieved during the procedure Microsoft laid out.
Note: You can download a fresh copy of Windows 10 and create your installation media for it using the handy tool on this page.
Bottom line: As long as you prepare for a motherboard upgrade in advance you shouldn't have any trouble whatsoever getting Windows 10 reactivated after the new motherboard has been installed.
---