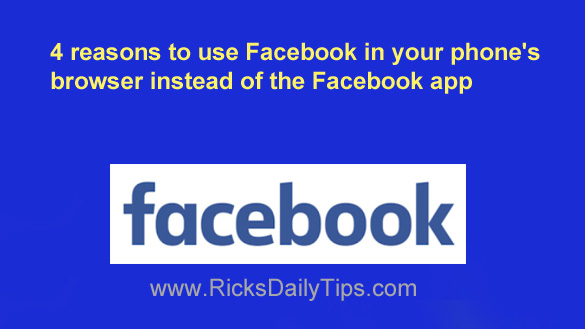 Do you use Facebook on your phone or tablet?
If so, chances are you use the Facebook app instead of your device's mobile web browser.
I used to use the app myself, but I eventually ditched it out of frustration.
Truth be told, there are several disadvantages of using the app instead of loading Facebook directly in a browser:
1 – The Facebook app is a major battery hog. After I deleted it from my phone I immediately started enjoying an extra hour or two of battery life between charges.
2 – Facebook's mobile website works a lot more like the full-blown desktop site, making it easier to switch back and forth between the two than switching to the app and back.
3 – The app seems to be subject to more strange glitches than the mobile Facebook website. Of course glitches will still rear their ugly heads when using Facebook in a mobile browser, but they will likely occur much less frequently.
4 – The app seems to be less protective of a user's privacy than the mobile version of the Facebook website.
I now use Facebook in my favorite mobile web browser instead of the Facebook app for the reasons mentioned above.
If you decide to do the same you can use Chrome, Opera, Brave or any other mobile browser of your choosing.
Now all of the above being said, the Facebook app does have one advantage over the mobile Facebook website: It's usually a bit faster.
The app does seems to be just a bit more responsive than the mobile Facebook website, but luckily the difference isn't really all that noticeable.
Bottom line: If the fastest possible response to your "taps" is your top priority, then by all means keep using the app.
But if longer battery life, better compatibility with the desktop site, fewer glitches and enhanced privacy appeal to you, it might be time to ditch the Facebook app and start using Facebook in a mobile web browser instead.
Bonus tip: Are you planning to build a Business Facebook page?
Do you already have a page but find that it just isn't performing as you hoped it would?
If so, you really need to check out this in-depth article from MobileMonkey. It's jam-packed with insightful tips and info for building a powerful and effective Facebook presence.
---