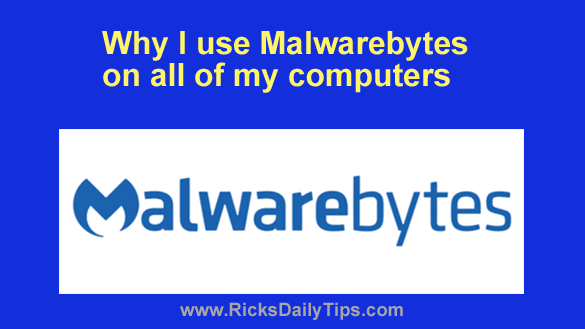 Note: This post is is not an ad for Malwarebytes. I'm not affiliated with them in any way and they didn't pay me to write this post. I'm simply a very happy customer.
And now, on to the post…
---
I'm frequently asked which antivirus app I use and recommend, and truth be told, that answer changes over time as some antivirus tools get better and others get worse.
But for the last couple of years my answer has remained the same: Malwarebytes
Why? Well, there are several reasons: 
1 – In addition to doing a fantastic job at preventing, detecting and removing viruses, Malwarebytes also protects your PC against other types of malware that most antivirus apps don't even check for.
2 – The free version of Malwarebytes will coexist quite nicely alongside another antivirus app that runs full time in the background. That means you can keep using your favorite antivirus app and simply augment its protection with periodic manual scans with Malwarebytes Free.
3 – When Malwarebytes is running in the background or actively running a scan, it doesn't slow your system down like so many other antivirus solutions do. That means you don't have to sacrifice performance for effective protection.
4 – Malwarebytes just works (and it works extremely well).
I can't begin to tell you how many malware infections Malwarebytes has found and removed after they were completely missed by other popular antivirus apps.
I've used virtually every antivirus program there is at one time or another, and some of them are very good. But as of today Malwarebytes beats them all in my humble opinion.
I still install and test other antivirus apps on a regular basis, but I always go right back to Malwarebytes after the results are analyzed.
Of course that might well change at some point if Malwarebytes begins to slip a bit, but right now I believe it offers the protection you can get in a consumer grade anti-malware app.
Bottom line:  If you're trying to decide on an antivirus solution for your PC or Mac, I recommend that you give Malwarebytes a try.
Just click the link to download the free version and you'll actually receive a 14 day trial version of Malwarebytes Premium. That'll give you two weeks to give Premium a try to see what you think about it.
After the free trial period has expired, if you're unimpressed simply ignore the message inviting you to pay the annual fee for the Malwarebytes Premium upgrade.
If you decide not to pay for Premium it will revert to the free version automatically. You won't have to do a thing.
And if you're concerned that they might charge you the upgrade fee without your permission, don't be.
They won't be able to place a charge on your card without your permission because they won't have your card info. You can install the trial version without providing it. Note: That's the way ALL trial periods should work.
Give Malwarebytes a try and see what you think.
---