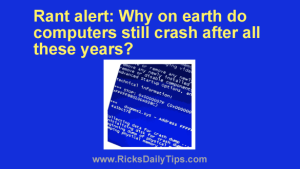 <rant>
One of the most irritating things about computers is how they stutter, freeze up or simply crash altogether, usually at the worst possible time.
That happened to one of my friends this morning, and it really got me thinking…
Why is it that after all these years computers still crash at all? 
Software engineers have been designing programs and writing code for decades, and the tools they use are more powerful than ever.
Why then do expensive software packages that were designed using millions of dollars of research and development funds cause us so much grief?
I believe expensive, but buggy software is released to the public because the huge software companies are more interested in making the next billion dollars than in creating the best possible product. Take Microsoft for example…
It takes the guys and gals in Redmond years to find and squash most of the bugs in any given version of Windows, yet when they finally get it "fixed" to the point where it is somewhat stable, they replace it with a new version that is filled with a brand new batch of bugs and other irritations (such as forcing a completely new user interface that no one likes or wants onto consumers).
So why can't they just leave well enough alone? I'll tell you why…
There is relatively little profit in "leaving well enough alone".
Literally billions of dollars are to be made with every release of the next version of Windows. I believe that's why Microsoft reversed their decision to make Windows 10 the last version of Windows, ever.
Don't get me wrong. I'm not anti-capitalist in the least. I'm all for companies making a good profit from their R&D investments. After all, capitalism is the engine that has kept our great country great for well over 200 years.
But that being said, I also believe companies should deliver the highest quality product to the public that they possibly can. And when it comes to technology, it seems like they're really missing the mark.
Consider this: Would hospitals and patients settle for medical devices that crash and freeze up in the middle of a serious operation? Would drivers settle for automobiles that stalled in the middle of the road every 5th or 6th trip?
The answer to these questions is no, and we shouldn't have to settle for a computer system that crashes at the worst possible times either.
Bottom line: Computers have been around for well over half a century now. It is not an immature industry.
At this point in the game, the only time a computer should ever crash is when a critical piece of hardware fails. In my humble opinion, modern computers should rarely (if ever) fail from a software glitch. Just sayin'.
</end of rant>
---