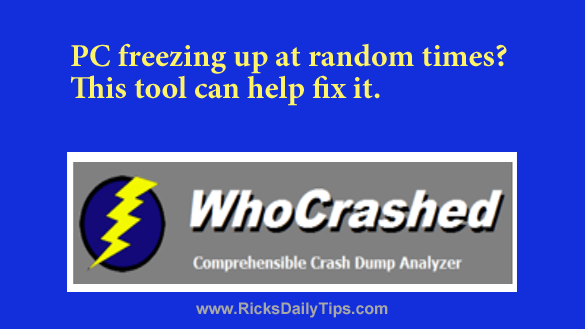 Click here to sign up for my free Rick's Tech Tips Newsletter!
---
Does your PC freeze up on you, reboot at random times, or display the infamous "Blue Screen of Death" on occasion?
If so, there are two likely culprits:
1 – Malware that's wreaking havoc with your Windows environment
2 – A buggy or outdated device driver
The first thing I always do when a PC is running poorly is perform a thorough series of malware scans using the free tools listed in this post.
Malware removal will take care of the problem in most cases, but there are times when it won't. That's when you'll need to shift your focus to rooting out a bad device driver.
If you're not a computer tech, tracking down a faulty driver can often be an exercise in frustration. But there are some excellent tools out there that can help. One of my favorites is a free download called WhoCrashed.
In a nutshell, WhoCrashed will rat out the driver(s) that is causing your computer to freeze up, restart or crash completely.
Although it isn't perfect, this fantastic tool works quite well in most instances, allowing you to track down a problem driver so you can replace it with the latest stable version.
Visit this page to learn how WhoCrashed works, then click here to download the software from OlderGeeks.
Important: As with most diagnostic/repair procedures, the first step in using WhoCrashed should be to create a System Image Backup of your PC's hard drive. That way if something goes wrong you'll be able to restore your hard drive from a fresh backup.
Bottom line: Random freeze-ups, system crashes and restarts have been the bane of Windows users since day one. WhoCrashed can help you figure out what's going on with your computer so you can fix it.
---
Click here to ask me a tech question.