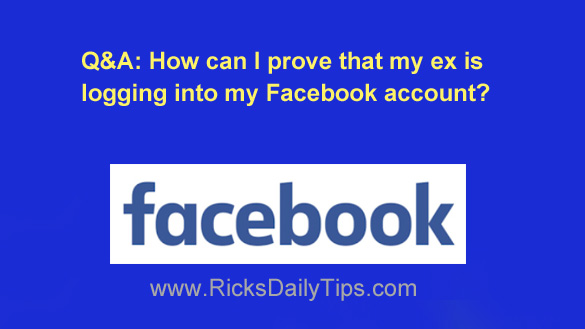 Question from Dreanna:  I know that you know a lot about Facebook Rick, so I thought I'd see if you can help me with a problem I'm having.
Someone keeps hacking into my account and posting personal stuff about me that just a handful of people could possibly know about.
I've changed my password several times but they keep breaking into my account anyway.
I'm certain it's my ex doing this, but I'd like to be able to prove it because I have a protective order that bars him from contacting me in any way. I live in Florida but he moved to Arizona a few months ago.
I really need this info but I really can't afford to hire a private investigator.
Can I maybe get a list of the IP addresses of everyone who has logged into my Facebook account and prove he's doing it by tracing one of those IP addresses to his home in Arizona? Or maybe there's a better way?
Rick's answer:  Unfortunately, this type of thing is quite common on Facebook, Dreanna. In fact, it happens all the time.
To answer your question, it is indeed possible to get a list of all the IP addresses that have logged into your account.
This info is included in the file you'll receive when you download a copy of your Facebook data. To do that, simply follow the steps below.
Note: Although you can use a mobile device to complete the tasks listed below, I strongly recommend that you use a laptop or desktop computer instead (even if you have to borrow one from a friend). Why? Because that will make it easier to view and print the info you need.
1 – Log into your Facebook account.
2 – Click the down arrow icon located near the top-right corner of your browser window.
3 – Select Settings from the drop-down menu.
4 – Click the Your Facebook Information link located near the top of the window.
5 – Click Download Your Information.
6 – Select the types of data you wish to download by unchecking the ones you don't need a copy of.
Note: The more lines you uncheck the less time it will take to assemble and download the history file. Since all you need is the location information I recommend that you uncheck everything except the items in the Information About You section down at the bottom of the page.
7 – Click the Create File button and then follow the directions provided for downloading the file to your computer.
Open the history file on your local computer and then copy and paste the IP addresses listed within it (one at a time) into the box at IP Location Finder to display the general location of that IP address.
After you finish checking the location of the IP addresses you can possibly retrieve a second piece of data to back your evidence that your ex has been logging into your account (or not).
Simply review your account's currently active sessions to see if any of them match the city in Arizona where your ex now resides (or a place somewhere in that vicinity). Follow these steps:
1 – Log in to your Facebook account.
2 – Click the down arrow icon located near the top-right corner of your browser window.
3 – Select Settings from the drop-down menu.
4 – Click the Security and Login link over in the left-hand column.
5 – Find the Where You're Logged In section and click the See More link. You should now see a list of all the active sessions where you (or someone else) is logged into your Facebook account.
6 – Check to see if there's a city or town in Arizona listed under one or more of the active sessions. If so, there's a strong change that your ex is truly logged into your Facebook account.
Note: Be aware that sometimes Facebook will log a different city or town than the one the user is actually logged in from, but it will usually be somewhere relatively near by.
7 – You can now press Ctrl+P to print this screen to serve as proof that someone from your ex's general location has been logging into your account.
This printed info combined with the IP addresses contained in the data file you downloaded earlier could be  strong indicators that your ex is indeed the person who keeps logging in to your account and posting personal things about you (if he indeed turns out to be the culprit, of course).
8 – While you're on this screen you should go ahead and click the three dots and select Log Out link for every session except the one you are logged into right now. That will log everyone except for you out of your Facebook account.
Now that that's taken care of, I recommend following the steps listed in this post to lock down your account to prevent your ex (and others) from breaking into it again.
I hope this helps Dreanna. Good luck!
Update from Dreanna:  Thank you Rick. I followed your instructions and found out that someone has been using my computer from Fountain Hills, Arizona. That has to be him. I really appreciate your help.
Bonus tip: Want to make sure you never miss one of my tips? It's easy! Just…
Click here to sign up for my free Rick's Daily Tips Email Newsletter!
---
Would you like to ask Rick a tech question? If so, click here and send it in!
If you found this post useful, would you mind helping me out by sharing it? Just click one of the handy social media sharing buttons below. Thanks a bunch!