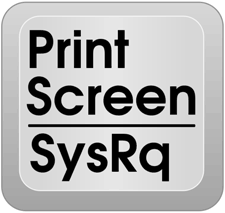 Question from Belinda L.:  Hi Rick. I remember reading somewhere that if you press key combination Ctrl+Print Screen the computer will save a screenshot image of whatever is on the screen at the time. But when I press those keys nothing happens.
I've searched my documents folder, the desktop and everywhere else I can think to look but I can't find a screenshot image. What am I doing wrong? My PC uses Windows 7.
Rick's answer:  You're not doing anything wrong Belinda, you're just not finishing the procedure.
When you press the Ctrl+Print Screen key combination (Note: the Print Screen key is sometimes labeled PrtScrn or something similar) it saves an image of the screen contents to the Windows Clipboard which is nothing more than a small section of RAM set aside as a buffer.
In order to convert that screenshot into an actual image file you'll need to open your favorite image editor (Paint, Photoshop Express etc.) and paste the contents of the Clipboard into it.
Once you have the screenshot displayed in the image editor, you can crop it, resize it or edit it just like any other image and then save it as a JPEG, BMP or other type of image file.
Since you're using Windows 7 you have Microsoft Paint already installed on your system by default. Here's how to use the Ctrl+Print Screen key combination and MS Paint in order to capture a screenshot and save it as an image file: 
1 – Press Ctrl+Print Screen to capture a screenshot.
2 – Click the Start orb.
3 – Type Paint into the Search box and press the Enter key.
4 – Click the Paste button that's located in the top left-hand corner of the Paint window.
5 – (Optional) Edit the image in any way you wish (crop, resize, adjust brightness/contrast, etc).
6 – Press the Ctrl+S key combination to open the "Save File" dialog box.
7 – Choose a file format for the saved image (JPEG usually works well for most situations).
8 – Select a location on the hard drive to save the file to. To make the saved file easy to find later you can always just save it to the Desktop.
9 – Click the Save button.
10 – Click the X in the upper right-hand corner of the window to close the Paint application.
That's all there is to it. Now you know how to find the image file for your screenshots!
I hope this helps, Belinda. Good luck!
Bonus tip #1: Click here to read about Greenshot, my favorite screen capture utility.
Bonus tip #2: Want to make sure you never miss one of my tips? Click here to join my Rick's Tech Tips Facebook Group!
---
Do you have a tech question of your own for Rick? Click here and send it in!
If you found this post useful, would you mind helping me out by sharing it? Just click one of the handy social media sharing buttons below.