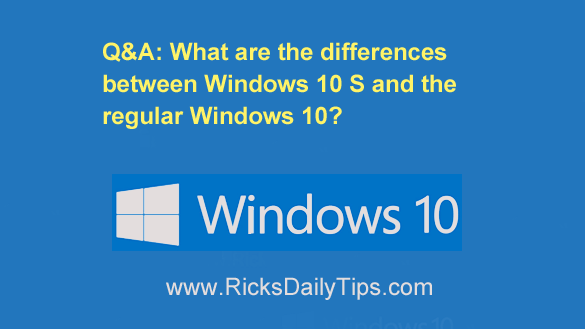 Note: The links in this post are affiliate links.
Question from Sheila:  I recently saw some Microsoft Surface laptops on Amazon that said they come with Windows 10 S.
The ad didn't give any details about this version of Windows 10. What does the "S" on the end mean? 
I'm thinking about buying a new Surface laptop because my dad really likes his Surface tablet, but I'm confused about whether I should buy one with Windows 10 S on it or not. What's your opinion?
Rick's answer:  Sheila, Microsoft has designed Windows 10 S to be a streamlined and more secure version of Windows 10.
At first glance, Windows 10 S looks exactly like previous versions of Windows 10, but "under the hood" there are some fairly significant differences.
First of all, you can't install just any program or app on a Windows 10 S machine. You'll only be allowed to install apps that are available via the Microsoft Store.
Microsoft hawks this new restriction on what you can and cannot install as a "security enhancement" since only apps that meet Microsoft's standards are allowed into the Windows Store in the first place. And truth be told, it probably is.
On the downside, this policy means if you have a favorite program that you downloaded or purchased from a third party website or company you won't be able to run it on a Windows 10 S machine unless they have an "app" version of it available through the Microsoft Store.
Another difference you need to be aware of is Microsoft Edge will forever and always be your default web browser. That means any links you click from within an app will open in Edge each and every time.
You'll be able to install any third-party browser that's available from the Microsoft Store, but you won't be allowed to set one of those browsers as the default browser. It's going to be Edge, forevermore.
This change is also being hawked as a security enhancement with Microsoft claiming that Edge is more secure than Chrome and Firefox.
I can't say that they're wrong, but I haven't seen any data to back that claim up. Time will tell, of course.
To go along with the new "Edge will forever be your default web browser, period!" edict, Windows 10 S will not allow you to change your default search engine either.
You'll be searching with Bing forever unless you navigate to Google.com or some other search engine's website manually.
Any searches you do from your browser's address bar or via Cortana will always be performed using Bing even if prefer using another search engine.
Next, lets talk about storage…
Unlike its predecessors, Windows 10 S and the Microsoft apps that run on it are designed to work seamlessly with Microsoft's OneDrive cloud storage.
By default, your Windows apps will store your files in the cloud. That means you'll be able to store as many files as you want up to the limit set by your OneDrive service plan. And once they are there, you'll be able to access those files from any device, not just the one that created them.
Another benefit of OneDrive storage is it protects your files from loss in the event that your PC or mobile device gets lost, stolen, infected with a horrible virus or simply stops working.
Since your files are stored in the cloud instead of on the device itself, you won't lose them along with the device if something ever happens to it.
The above being said, you'll still be able to save your files onto removable media if you choose to do so. Simply plug in a USB flash drive or external USB hard drive and copy your files onto it.
And finally, there's one last change that truly is a good one. Windows 10 S is leaner and faster than previous versions of Windows 10, making it a great choice for lower powered PCs and mobile devices.
Machines running Windows 10 S will boot up faster and provide a zippier Windows experience than they would if they were running a previous version of Windows 10.
And now one last, but very important point: If you give Windows 10 S a try and decide that you simply don't like it, you'll be able to upgrade to the full version of Windows 10 by following these instructions.
Just be aware that the switch out of Windows 10 S is a one-way deal. You won't be allowed to switch back to Windows 10 S if you end up regretting the switch to Windows 10.
Bottom line: In reality, Windows 10 S was designed to compete with the slim and trim Chrome operating system that runs on the hot-selling Chromebooks, and it really does compete quite well.
And finally, to answer your second question, I believe the Surface laptops with Windows 10 S are great machines.
If security and speed are your top concerns, then yes, I do believe you should buy one since you'll have the option of updating to the full-blown Windows 10 if you decide that Windows 10 S just isn't for you.
But before you make a purchase decision, there are actually Windows 11 S laptops available now as well. Just sayin'.
I hope this helps, Sheila. Good luck!
---