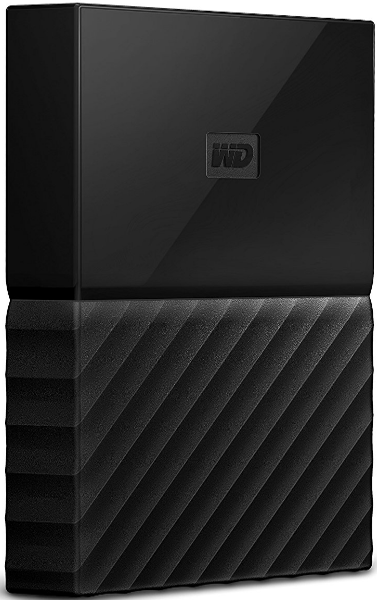 These days no computer system is complete without an external USB hard drive. These handy gadgets are simply perfect for making local backups and for handling so many other handy mass storage tasks.
External hard drives used to be quite expensive, but their prices have now dropped to where they are easily affordable, even with today's massive storage capacities.
I recently had a chance to check out the WD 1TB Black My Passport Portable USB 3.0 External Hard Drive (#ad), and it didn't take long to figure out why it's the best selling external USB hard drive on Amazon.
This awesome drive from Western Digital easily fits in my shirt pocket, yet it's super fast and stores a full terabyte of data. Thanks to its speedy USB 3.0 interface, it made quick work of backing up both the 120GB SSD and 750GB hard drive on my Desktop PC. 
The included WD SmartWare Pro Backup software works well, allowing you to back up all of your data to the external hard drive and then make a redundant backup to your Dropbox account. This feature alone is worth the price of the drive in my opinion. And of course password protection and full hardware data encryption are also supported.
Bottom line:  This compact, portable drive from Western Digital is a great value. Western Digital makes some of the most reliable hard drives you can buy, and this one is an outstanding choice if you're looking for a large, dependable external USB hard drive that won't break the bank.
Click here (#ad) to read more about the WD 1TB Black My Passport Portable USB 3.0 External Hard Drive at Amazon, including hundreds of positive user reviews.
---
If you think your friends would like this post, I'd love you to share it! Thanks a bunch!