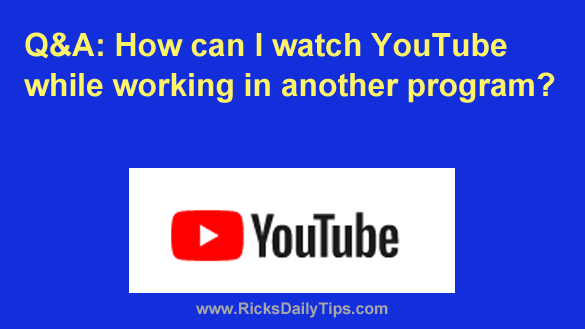 Question from Rhonda:  I have a question for you. How can I keep a YouTube video playing in the corner of my computer screen even when I'm working with other programs?
I subscribe to a channel that features inspirational videos and I'd love to be able to watch them while I'm working.
I know this can be done because I've seen it, but the person who did it is no longer with the company so I can't ask them how to do it.
Rick's answer:  Rhonda, it's actually quite easy to watch YouTube videos while you're doing other things with your computer by using a handy "Picture-In-Picture" feature.
I'll be happy to tell you how to do that, but before I do I really feel the need to say this…
Important: Some companies have a strict policy against doing anything of a personal nature on a company computer, especially while you're "on the clock".
I have no way of knowing whether your company has such a policy, but I would feel terrible if I told you how to do something that ultimately caused you to lose your job.
If you don't already know whether such a policy exists, you might want to check with your company's Human Resources department to find out.
Once you know you're allowed to do this (and you might well already know), you can follow the steps below to open your YouTube video in a floating "Picture-In-Picture" window:
1 – Visit YouTube.com and open the video you want to watch while you're working.
2 – After the video starts playing, right-click anywhere on the video. You should see a menu pop up.
3 – Ignore the menu that just popped up and right-click on a different area of the video. A second (different) menu should pop up.
4 – Select the Picture in  picture option from the second menu. You should now see a window containing the video in the lower-right corner of the screen. You can either leave it there or click on it and drag it to another location on the screen.
That's all there is to watching a YouTube video in a "Picture-In-Picture" window.
Here are a couple of things to keep in mind:
1 – The "Picture-In-Picture" window should remain in view even while you're using a different program (0r switching between various programs).
2 – If you close the browser window containing the original YouTube video it will also close and remove the "Picture-In-Picture" window.
I hope this helps, Rhonda. Good luck!
Update from Rhonda:  Thanks for the instructions. It works great!
I also want to thank you for caring about us and giving us these kinds of warnings when you believe you need to.
I had already checked with my boss and she said it's fine to watch videos while we're working as long as it doesn't affect our job performance. And it won't because in my job once I tell a program to start crunching a bunch of numbers there's nothing else for me to do until it finishes (which often takes an hour or more).
---