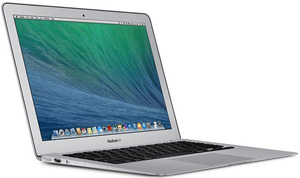 Question from Elizabeth:  I'm having a problem with my MacBook, Rick. It just started last week.
Every time I shut it down the screen resolution is wrong and the volume is at full blast after I start it up again.
Do you know what's causing this? Thanks in advance.
Rick's answer:  Elizabeth, there are actually several different issues that can cause a MacBook to "forget" various settings when it's shut down, but in most cases the forgetfulness can be remedied by simply resetting the machine's NVRAM.
In a nutshell, the NVRAM is special block of non-volatile RAM that stores a number of settings for Macs, including the last-used volume level and screen resolution.
I have a hunch that a quick NVRAM reset will put a stop to your MacBook's forgetfulness.
Just follow the steps below to give it a try:
1 – If your MacBook is running, shut it down.
2 – Turn on your Mac and immediately press and hold the Option+Command+P+R key combination while the machine boots up. Here's a graphic that depicts those keys:

After your MacBook has finished booting up the NVRAM should be reset and ready to configure.
3 – Launch the System Preferences utility and make changes to any settings that need to be adjusted.
That's all there is to it Elizabeth. If all went well your MacBook should no longer "forget" the settings you mentioned above. If it still does however, let me know and I'll tell you what to try next.
Update from Elizabeth:  That did it Rick. Thanks for your help.
Bonus tip #1: This post explains how to boot a Mac into "Safe Mode" for troubleshooting purposes.
Bonus tip #2: Want to make sure you never miss one of my tips? It's easy! Just…
Click here to sign up for my free Rick's Daily Tips Email Newsletter!
---
Would you like to ask Rick a tech question? If so, click here and send it in!
If you found this post useful, would you mind helping me out by sharing it? Just click one of the handy social media sharing buttons below. Thanks a bunch!