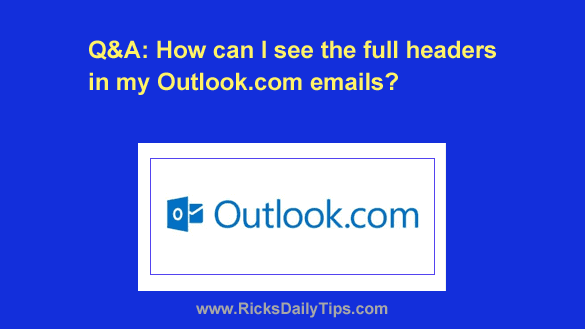 Question from Grady:  I recently started using Outlook.com for my email after buying a new PC that didn't come with Microsoft Office.
I like Outlook's webmail setup just fine, but it does have a few quirks.
If an email looks suspicious I always like to check the headers to see where it originated from. But I can't find a button or link to view the headers when I open an email.
Does Outlook.com not allow you view them? 
Rick's answer: That's a great policy to follow, Grady. Examining the header info is a sure-fire way to determine the true origin of an email.
Luckily, Outlook.com does let you examine the headers before you even open the message.
You can easily view the entire source code (including the full headers) of any email you receive via Outlook.com by following the simple steps below:
1 – Log into your Outlook.com account and view your Inbox.
2 – Open the email you want to view the headers for.
3 – Click the More actions icon that's just above the date in the top-right corner of the message window (it looks like three horizontal dots).
4 – Select View>View message source from the drop-down menu.
That's all there is to it. You should now see the entire source code of the message on your computer screen (which includes the headers).
As you already know, hackers love using email to spread malware and steal login details. That's why it's so important to know how to spot and avoid fraudulent emails.
It appears that you already have a head start on that!
I hope this helps, Grady. Good luck!
Update from Grady: Thanks for that info Rick. It's really easy once you know how to do it. I really appreciate your help.
Bonus tip: This post explains why you should cancel all of your unused email accounts.
---