Note: The links in this post are affiliate links.
A couple of weeks ago I made this short video and wrote this blog post explaining how (and why) I took my home office off-grid and went solar.
To quickly recap, I installed a simple 24VDC to 120VAC solar power generating system to power my computer, laser printer and other essential electronics to prevent my office gear from going offline during power outages.
Overall, I'm very pleased with the way it's working out. 
This post is a review of the Vevor 3,000W 24VDC to 120VAC Pure Sine Wave Power Inverter I'm using to convert the 24VDC supplied by the batteries to the 120VAC that's needed to power my equipment.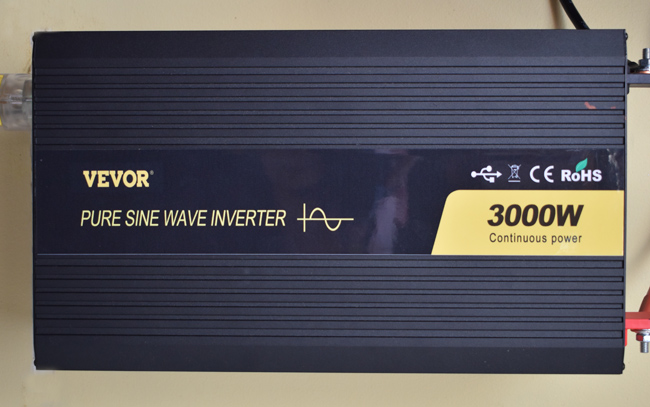 I've tested and used a lot of DC to AC inverters over the years, and as you might expect, some were better than others.
The types of those inverters varied greatly:
Some were designed to work with 12 volt batteries while others were for 24 volt systems.
Some were modified sine wave inverters and others were pure sine wave.
The wattage of those inverters ranged from 150 watts to 6,000 watts.
After using this Vevor 24VDC to 120VAC pure sine wave inverter for a while I can tell you that it's the best inverter I have ever used.
First of all, it's perfectly quiet and it remains completely cool to the touch during normal operation. To the best of my knowledge its cooling fan has never come on even once.
What's more, the AC power output is a perfect (and rock-solid) 120 volt sine wave that doesn't degrade or exhibit any clipping whatsoever, even when operating under a moderately heavy load.
This device is well-built, sturdy and extremely easy to mount to a panel or wall. Even though I had to use anchors in the wall-board covering my basement wall, the entire mounting procedure took little more than five minutes.
The external battery voltage and charge status display is a nice touch, making it easy to monitor the state of the battery with just a quick glance.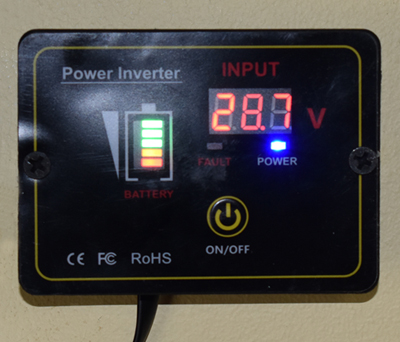 Since this inverter accepts an input voltage of 24VDC instead of the 12VDC that's commonly used in most basic solar power systems, I expected to find that it's a bit more efficient than the 12volt inverters I've used in the past. I wasn't disappointed.
Just as a test I took the two 12V LifePO4 batteries out of a series configuration and connected them in parallel.
Two different 12V pure sine wave inverters were then connected to the system to see how long it would take for the battery charge to drop to 80%.
I found that it takes an average of two hours longer to deplete the charge level of the battery bank to 80% when using the Vevor 24 volt inverter than when using the 12 volt inverters.
What's more, both 12 volt inverters introduced a low-level, but noticeable hum into the audio portion of the videos I made by recording the screen on my PC. That's a sure-fire indication that there was some clipping in the sine waves produced by those inverters.
When I record videos with the Vevor inverter there is no hum at all – I get nothing but perfectly clear audio.
Bottom line: I really like this 24VDC to 120VAC inverter from Vevor a lot.
And yes, like I mentioned earlier, it really is the best DC to AC power inverter I have ever used (and I've used a lot of them).
If you're looking for a really good inverter to power your computer, appliances or other gear that really needs a pure sine wave in order to operate correctly, I believe this gem from Vevor would be an excellent choice.
---