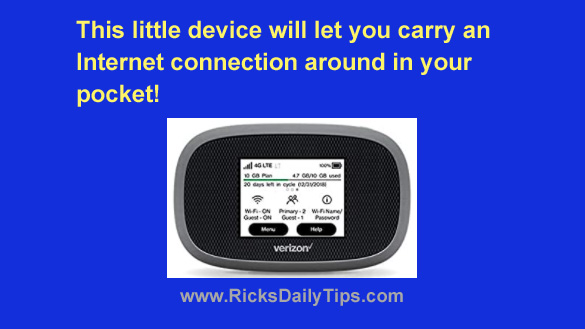 Note: The links in this post are affiliate links.
Do you ever find yourself out and about and in need of a Wi-Fi hotspot, only to be disappointed when you can't find one?
Does bad weather frequently knock out the Internet service at your house and you have to go without using the Internet for days while waiting for service to be restored?
If you really hate going without Internet service even for a day or two, there's an easy way to make sure you have a backup Internet service available at a moment's notice…
All you have to do is get yourself an inexpensive Verizon Jetpack Mobile Hotspot. 
Using a Verizon Jetpack is simple. Just turn it on and connect it to the Verizon cellular data network. Then connect to your newly created hotspot with up to 10 devices (laptops, tablets, smart phones, etc.).
Since you'll need a stable Verizon cellular signal in order to use your Jetpack, you'll want to verify that you have one in your home if you ever plan to create a hotspot there. But even if you just plan to use this awesome device when you're out and about, it's still a fantastic deal!
All in all, this a great way to ensure that you'll have Internet access available to you and your family any time you need it!
Click here to check out the great selection of Verizon Jetpack Mobile Hotspot options at Amazon.
---
Never miss a tip!  Click here to sign up for my free Daily Tech Tips Email Newsletter!