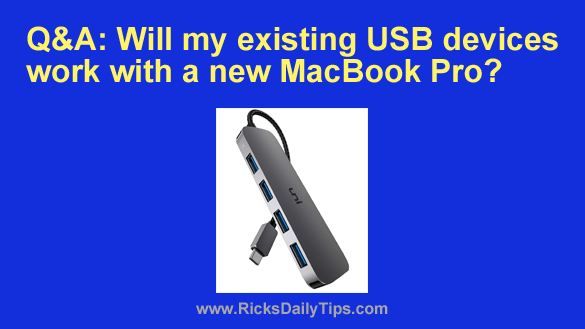 Note: the links in this post are affiliate links.
Question from Kelly:  I'm thinking about buying a new Apple MacBook Pro but I need a bit of advice first.
The reviews I've read were great, but they said this machine doesn't have any old-style USB ports, only the new USB-C.
If I buy this laptop will I have to replace my external hard drive and other USB devices with new ones that have USB-C connections?
Rick's answer:   Kelly, the newest MacBook Pros are indeed great machines, but the lack of traditional USB ports does have a lot of people asking the same question you asked.
While I can understand Apple's reasoning for going with the new USB-C type ports, I believe they should have included one legacy USB 3.0 Type A port as well simply for backwards compatibility.
But as they say, things are what they are. And as you probably know, Apple is well-known for ditching legacy ports as soon as they possibly can.
The good news is you have a couple of great options for plugging your existing USB devices into a new MacBook Pro:
1 – If you only need to connect one USB device at a time, an inexpensive yet elegant solution would be to use a USB-C to USB 3.0 adapter.
2 – If you need to connect multiple devices to your MacBook Pro simultaneously, the obvious choice would be an inexpensive USB-C to USB 3.0 hub.
Any USB 3.0 or USB 2.0 devices you might have should work just fine when plugged into either the adapter or the hub mentioned above.
I hope this helps, Kelly. Good luck!
---