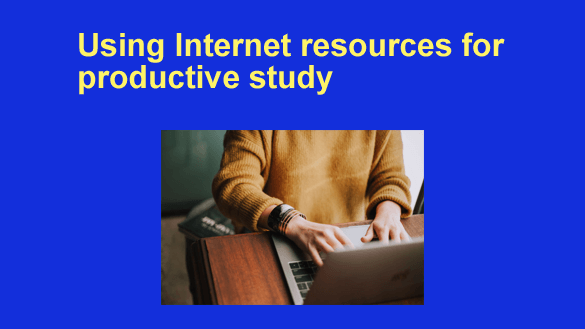 The Internet is an invaluable resource to students of all ages.
With the advent of the digital age, access to Internet resources has dramatically changed the way we learn and study. It provides us with a wealth of information at our fingertips, as well as offers new opportunities for collaboration and communication with fellow learners.
This post will explore the various benefits that come with using Internet resources for productive study, types of online learning materials available, and tips on how to maximize your use of these resources. 
Top benefits of Internet access for education
Access to a wealth of information
One key benefit of utilizing Internet resources is that it allows students access to a wealth of information that can be used for studying or researching a variety of topics.
With just a few clicks of the mouse, students can access textbooks, articles, videos, and other materials that can help them gain knowledge about a particular subject area. Collegepaper.net is one such resource for college students that provides a comprehensive selection of college papers, essays, research papers and other materials that can be used to help students succeed academically.
Cost effective learning
Another advantage to using internet resources for productive study is that it can be much more cost effective than traditional sources such as textbooks or physical classrooms. Many online learning platforms are free or offer low-cost subscriptions which makes them accessible to all budgets.
In addition, online courses often give students the ability to study at their own pace without having to pay for pricey tuition fees associated with traditional universities.
Increased efficiency and time management
With so much information readily available online, it's become easier to focus on the specific topics or materials you need for studying, without wasting a lot of time and energy looking for them.
Many online resources offer tools such as flashcards and calculators that can help streamline the process of learning and make studying more efficient.
Ability to communicate with other students and experts
The Internet has made it easier than ever before to connect with other students from around the world as well as experts in any field you may be interested in pursuing.
Social media groups and forums are great places to find peers who share similar interests or ask questions of experienced professionals who can offer valuable advice on topics related to your studies.
Increased motivation and engagement
Using Internet resources for studying can also be highly motivating for learners as it allows them to take an active role in their own education. With access to a variety of learning materials, students can choose the type of content that best suits their interests or needs which helps keep them engaged throughout the duration of their studies.
Opportunity for global collaboration and networking
In addition to developing increased motivation, the internet also offers students the chance to collaborate on projects or network with people from around the world who may have useful insight or advice. This can provide valuable real-world experience and help students build a strong network of contacts as they progress in their studies.
Types of internet resources for education
There are a variety of Internet resources available to students for educational purposes. These can range from online courses and virtual classrooms to podcasts, blogs and other multimedia.
Online textbooks and articles
One type of Internet resource often used for productive study is online textbooks and articles. Many universities and other educational institutions offer their students access to digital versions of textbooks, journals, and other scholarly materials which can be searched using keywords or topics.
Additionally, many popular websites such as Wikipedia provide reliable sources of information on a wide range of topics and are a great starting point when it comes to conducting research. For those looking for more in-depth research, https://writemyresearchpaper.me/order-research-paper/ is a great resource that allows users to purchase pre-written essays and research papers on a variety of topics. This can be an invaluable resource when trying to complete complicated assignments or when researching a particularly unfamiliar topic.
Online video lectures
Another type of Internet resource commonly used by students is online video lectures. Sites such as YouTube have thousands of tutorial videos covering an array of subject matters that can help supplement traditional learning in the classroom setting.
There are numerous sites dedicated to providing free or low-cost streaming video content on a range of topics which can be a great way to gain knowledge on areas outside the scope of your major or course.
Virtual classrooms
Like online lectures and courses, virtual classrooms also allow students to take part in learning activities without being physically present in a traditional classroom. The benefit of virtual classrooms is that they can be accessed anywhere, anytime and on any device, allowing students to learn and collaborate with their peers when it's most convenient for them.
Podcasts
Podcasts are another great educational resource available online. They provide an audio format for sharing information and opinions related to various topics, including history, science and current events. Plus, many podcasts offer the opportunity for students to interact with the host or guest speakers via text chat or phone calls during live recordings.
Online discussion boards and forums
Online discussion boards and forums are also widely used by students for productive study. These platforms provide an opportunity for learners to connect with one another and share ideas, ask questions, and discuss topics in depth. They are a valuable resource for students who may not have access to physical classrooms or live tutors as they can still engage with peers from different parts of the world who might be able to provide insight into their studies.
Interactive learning tools and games
Interactive learning tools use technology to engage students in active learning. These tools include simulations, virtual worlds, gaming platforms, interactive whiteboards and more. They can be used to reinforce concepts covered in class or to explore new topics in a fun and engaging way.
Tips for productive study using Internet resources
Plan ahead
When using the internet for education, it's important to plan ahead. Figure out what type of material you need and how much time you can dedicate to studying each day or week. This will help keep you focused and organized during your research process so that you don't waste time searching for irrelevant information.
Set goals and monitor progress
Setting clear, attainable goals for yourself is also essential when it comes to productive study. This will help you stay motivated and measure your progress as you move through the material. Additionally, having a plan of action can be beneficial as it allows you to structure your learning process in a way that best suits your needs and interests.
Use quality sources of information
Lastly, it's important to use quality sources of information when researching online. Always double-check facts and figures from the internet as some websites may contain outdated or false information. Be sure to cross reference any resources you find with reliable textbooks or sources in order to ensure accuracy.
Reddit is a great place to ask other users for their opinion. The best essay writing service Reddit users recommend is available in the form of reviews posted by satisfied customers. Checking these reviews can help you identify and choose a quality essay writing service provider on Reddit.
Conclusion
In conclusion, the Internet is a valuable tool for productive study as it provides learners with access to a variety of online resources that can supplement their education. Whether looking for textbooks and articles, video lectures, discussion boards and forums, or social media platforms- there are numerous ways students can take advantage of the internet when studying.
With proper planning and adherence to quality sources, the internet can help make learning more efficient and enjoyable.
---