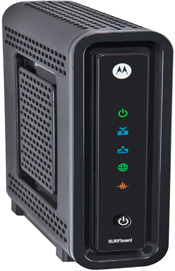 If you're one of the millions of Americans who subscribe to cable Internet service through Comcast/Xfinity, Charter or another cable TV company, you most likely rent your cable modem from your ISP. And there's nothing wrong with that.
While I think it's a wise move to buy your own cable modem, renting one from the cable company isn't necessarily a bad move if you live in an area that receives frequent electrical storms.
When a cable modem needs to be replaced, most customers simply accept whatever modem the technician pulls out of the truck and installs for them without giving it a second thought.
Well, that can be a very big mistake. Why? Read on and I'll explain… 
Whenever a "bad" modem is replaced, it is taken back to the shop and tested. If it appears to work ok on the test bench, it is usually placed right back into the inventory of replacement modems that are used to get other customers back up and running when they have a problem with their Internet connections.
The problem is many issues with electronic components are intermittent, which means the "tested" modem might work just fine while being put through its diagnostic paces on the bench, yet cause all kinds of connection problems the next time it's put into service in a customer's home.
Don't let that unfortunate customer be you! ALWAYS insist on a brand new cable modem when it comes time for yours to be replaced!
There's also something else you need to be aware of. Most cable companies have either upgraded their networks to DOCSIS 3.1 (the latest networking standard) or have plans to do so very soon. Check your ISP's website to see if they are now using DOCSIS 3.1 equipment. If so, insist on a brand new DOCSIS 3.1 cable modem.
And be careful…even if the technician pulls a brand spanking new modem out of an unopened box, it might be one of the older – and slower – DOCSIS 2 or DOCSIS 3.0 modems that they're trying to get out of the shop and into the homes of customers.
ALWAYS insist on a modem that supports the latest DOCSIS standard that their network supports. If they are still using DOCSIS 3.0, a new DOCSIS 3.0 modem will be fine for now. But the minute you hear that they have upgraded to DOCSIS 3.1, call them and ask for a new DOCSIS 3.1 modem.
Bottom line: If you're renting your cable modem from your ISP, you're surely paying them enough to "purchase" a brand new modem every few months. Therefore you deserve a brand new modem every time yours needs to be replaced.
You also deserve to be able to take advantage of the latest (and fastest) technology available to you at the time. Unless your name is Fred Flintstone or Betty Rubble, you don't have to settle for an unreliable "stone age" era cable modem.
Bonus tip #1: I strongly recommend that you keep your cable modem (and router) plugged into their own dedicated battery back device. This post explains why.
Bonus tip #2: Want to make sure you never miss one of my tips? Click here to join my Rick's Tech Tips Facebook Group!
---
Would you like to ask Rick a tech question? If so, click here and send it in!
If you found this post useful, would you mind helping me out by sharing it? Just click one of the handy social media sharing buttons below. Thanks a bunch!