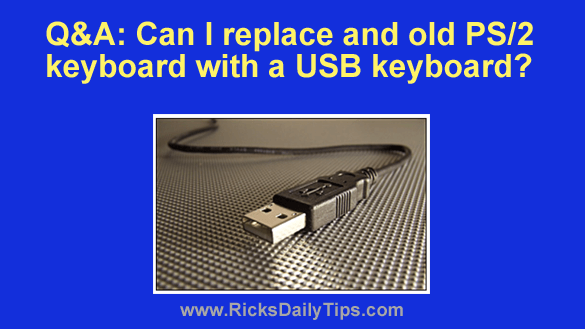 Question from Angie:  I have an older Dell desktop computer that came with Windows but was long ago converted into an Unbuntu Linux machine.
I love this computer dearly and I don't want to replace it with a new one until I absolutely have to.
The problem is I think that time might have come because the keyboard has a couple of essential keys (Backspace and Space Bar) that have stopped working.
I've checked at Walmart, Best Buy and Office Depot, but the only keyboards they sell connect to a USB port instead of the old-style PS/2 connector used by my existing keyboard. Will a USB keyboard work with this computer or am I simply out of luck? 
Rick's answer:  Angie, since your PC is running Ubuntu Linux you should have no problem whatsoever using a USB keyboard. I recommend that you give it a try.
And while you're at it, I'd also recommend getting a wireless USB keyboard and mouse combo.
I know exactly what you mean about not wanting to replace your trusty old Dell until you absolutely have to.
For what it's worth, I'm a huge believer in keeping older hardware up and running as long as it's both practical and safe to do so.
And since your machine is running Ubuntu Linux, it's definitely safe to use!
Bottom line: I say head straight over to your local retailer and get yourself a new USB keyboard (and optionally a new mouse) and enjoy your wonderful old Dell as long as possible.
---