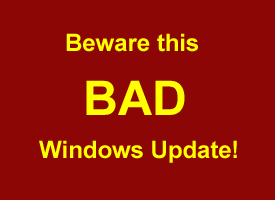 A few days ago I wrote a post about a bad Windows Update that was causing many Windows 7 PCs to go into a reboot loop. Inexplicably, Microsoft has yet to release a fix for the issue.
As I explained in that post, if your PC already has the bad update installed and it's stuck in a reboot loop, you can probably use the System Restore utility to roll back your Windows installation to a point in time before the bad update was installed. 
I also briefly explained how to do that by pressing the F8 key at startup to enter the Advanced Boot Options menu. As luck would have it, I happened to run across a great video from Dell that shows exactly how to do it. I thought I'd share it with you:
If you haven't done so already, I recommend that you take a few moments to read the original post in which I discussed the bad update. It contains some info that you might find useful.